NVQ Level 2 Painting and Decorating Course
NVQ Level 2 Painting and Decorating qualification is a competency-based course for the construction sector. You will show that you are qualified in your role to both employers and clients as a Painter and Decorator in the construction sector by qualifying. The course will allow you to demonstrate your skill and knowledge and leave with a qualification.
Nationally recognised accredited qualification.
Gain your CSCS Blue Skilled Worker Card.
You can complete it in your own time.
Help you to gain employment and customers.
CITB Grant Claimable.
Lifetime qualification.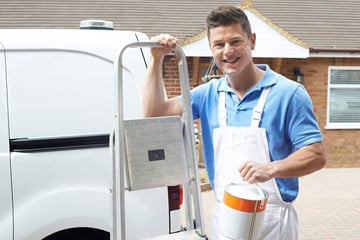 NVQ Level 2 Painting and Decorating course content
Upon enrolling.
We will assign you with an assessor who will assist you in building a portfolio of evidence. They will also arrange an induction with you that can be completed on-site or remotely.
During the induction.
The assessor will outline how you can obtain the required evidence to complete the qualification. Following the induction, the assessor will arrange review meetings to ensure that you keep on track.
Throughout the NVQ.
You will be assessed on-site by various methods, such as observations, professional discussions, written questions, evidence generated from the workplace and witness testimonials. You must gather evidence in:
General health, safety and welfare in the
workplace.
Productive working practices.
Moving, handling and storing resources.
Assembling and disassembling access/working platforms.
Preparing surfaces for painting and decorating.
Implementing paint systems by using a roller and brush.
Operating the paint sprayer equipment. (Industrial Painter pathway only)
Operating the abrasive blast cleaner. (Industrial Painter pathway only)
Applying coatings by the airless spray method. (Industrial Painter pathway only)
Preparing surfaces by abrasive blast cleaning. (Industrial Painter pathway only)
Preparing and painting surfaces on conservation or
restoration projects. (Heritage Painter pathway only)
To pass the NVQ, you are required to gather all the evidence needed to complete each unit. By doing so, you will prove that you are competent enough to obtain the qualification. The assessor will then go through the finished portfolio and present any feedback to you. Once you have acknowledged the feedback, the IQA will then receive the portfolio. The IQA will decide whether the qualification is complete or if any additional evidence is needed.
How much does the NVQ Level 2 Painting & Decorating course cost?
The cost of this course is £950 +VAT.
How long is a Level 2 Painting and Decorating NVQ?
Depending on how quickly you can gather the relevant evidence will determine the length of your NVQ.
You can work with your assessor to ensure that you have your qualification completed as promptly as possible. You can also manage the qualification around your busy schedule. Whatever suits you.
Why should I take this course?
Painters and decorators who are looking to obtain their Skilled Worker CSCS Card should attend this course. By gaining the required skills card for your role, you show that you have the knowledge and ability to conduct it properly.
An NVQ is a nationally recognised qualification for showing an individual's competency. They are fondly looked at by employers and will assist in career progression.
If you work for yourself, an NVQ is a great way to show that you are a qualified professional to your customers.
Level 2 qualifications can be used as a gateway into the industry for apprentices and new people in construction. The qualification structure offers a good balance of theory and practical learning that will give novices the on-the-job experience they need.
NVQ Level 2 Painting and Decorating Course entry requirements
The qualification will assess your competence in your current job role. Therefore, to enrol, you must be in full-time employment as a Painter & Decorator. The qualification also requires you to be aged 16 or above.
For more information on qualification suitability, contact 3B Training via the enquiry form on this page. If we find that the qualification isn't fitting, we will find you an alternative one.
Where can I complete this course?
NVQs can be booked over the phone or online via our website by companies and individuals across the country.
The advantages of an NVQ is that the course can be completed predominantly by you. You can achieve the rest at your workplace through on-site visits from your assessor.
Is this course accredited?
ProQual or GQA Qualifications are the awarding bodies for this course.
ProqQual has an ever-increasing offering of construction-related qualifications. They work closely with industry experts to develop their NVQs and keep them up to date and relevant.
GQA specialise in occupational qualifications for the construction industry. They understand the needs of learners in the sector and develop qualifications to suit them.
Further development
On completion of the NVQ, you will receive a certificate. The qualification does not have an expiry date and therefore does not need to be renewed.
Once the qualification has been completed, you will apply for the Skilled Worker CSCS Card. This will confirm that you have the appropriate qualifications to work in your role.
Working as a Painter and Decorator can be dangerous if you haven't attended the relevant training. Courses such as Safe Use Of Ladders & Step Ladders, UKATA Asbestos Awareness and Face Fit Testing are ideal for helping assure that.
Is this course CITB Grant claimable?
Yes, CITB registered companies can claim £600 in grant per learner. To claim, you will need to make a manual claim yourself retrospectively. Find out how to claim here.