Managing Scaffolding Operations Safely Course
The Managing Scaffold Operations Safely course provides delegates with the knowledge to manage and control scaffolding operations safely. The course can also be tailored to a client's requirements and delivered as an in-house course.
How long is the Managing Scaffold Operations Safely course?
One day
Who should attend the Managing Scaffold Operations Safely course?
The course is designed for company managers, safety advisors, directors, site agents, contract supervisors and others of a similar role whose role involves them organising arranging and controlling scaffold operations onsite.
It is advised that the delegates who attend have some form of working knowledge of scaffolding before attending the course but this isn't compulsory.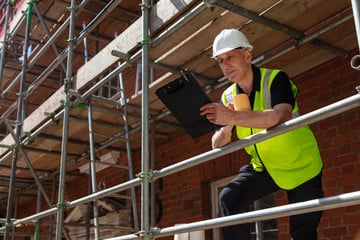 Course Content of the Managing Scaffold Operations Safely
The course will improve the delegates understanding in the below units:-
Introduction to the course
Course objectives & aims
Pre-contract planning of scaffolding operations
When you would require a scaffold design
TG20 Compliant sheets
The choosing of a scaffolding contractor
Scaffolders' qualifications and training
Safe working practices
Safe use of a harness to SG4
Risk assessments and method statements
Selecting the most appropriate scaffold for the task
TG20 Basic scaffolds
Safe use of scaffolding
Scaffolding control and supervision
Scaffolding inspection
Handover certificates
Scaffold tagging systems
The monitoring of onsite scaffolding operations
Theory Examination
Summary of the course
Throughout the course, delegates will develop an understanding of; the current legislation, the current standards of work and the responsibilities of an employer and employee concerning scaffolding operations. They will also learn about procedures relating to reporting, recordkeeping and inspecting of scaffolding operations.
Further Development
On completion of the training, delegates may want to attend a Construction Industry Scaffolders Record Scheme (CISRS) course. The below courses are designed to qualify the attendee to competently inspect a mobile tower or scaffold structure. Recommended courses include: