Manual Handling eLearning Course
Manual Handling eLearning is a qualification that will educate you on manual handling techniques and the risks of incorrect manual handling. With the knowledge that you gain you will help to reduce potentially long term injuries to yourself and others.
Highfield accredited.
Available completely online.
A short course that you can complete quickly.
A flexible course that you can complete in your own time.
Protect yourself from injuries caused by manual handling.
Valid for three years.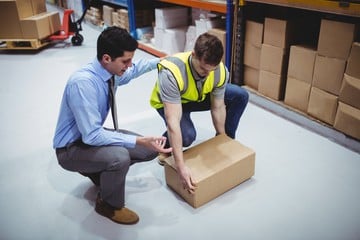 Manual Handling eLearning course content
The course is accessible on our eLearning platform. Upon booking, you will receive your unique log in details so that you can access the course. You will have up to a year to complete the training before your license expires.
The Highfield training course covers six training modules; each module goes over an essential manual handling related subject via activities and slides.
The modules include:
What is manual handling?
The LITE stairway to safety
Manual handling techniques
Lifting with multiple people
Manual handling examples
Assessment
The final examination of the course consists of five multiple-choice questions. You must answer all the questions correctly to pass.
How long is a Manual Handling eLearning course?
The course will take you around 30-40 minutes to complete.  The short duration allows you to quickly and efficiently gain the knowledge you need without affecting your productivity.
The course price is a fraction of the classroom training course; you will also save money by eliminating the need to travel and park at a 3B Training venue.
Why should I take this course?
Most of us have to do some form of manual handling in our job role, whether daily in a warehouse or just collecting a delivery to the office. But, without proper training, how do you know that you are lifting correctly and safely?
Poor manual handling is a contributor to one-third of workplace injuries. By completing this course, you are avoiding having a manual injury yourself.
The course is an ideal course to include in an employee induction training programme. The online course also is completed as a refresher course for those currently holding the Manual Handling Course qualification.
Manual Handling eLearning entry requirements
There are no formal entry requirements for this course.
However, to access the online course.
You are required to log in with a computer, laptop, or tablet connected to the internet. In addition, some aspects of the course will require the use of headphone or speakers.
We do not recommend that you use a mobile phone for this course. Unfortunately, we cannot guarantee that your mobile will be compatible with the eLearning portal.
Is this course accredited?
This course is accredited by the global awarding body Highfield Qualifications. Highfield is recognised through various industries in various countries; their qualifications hold a lot of weight when adding them to your CV.
Where can I complete this course?
eLearning Courses
This course is only available as an eLearning course. The course can be completed remotely from the workplace or at home in your own time.
To book an eLearning course, you can book directly online or complete the enquiry form available on this page. One of the 3B team will be in touch to deal with your enquiry.
Public Classroom Courses / In-house Courses
If you prefer to attend the course in a classroom, Manual Handling is available at our training venues nationwide. Unlike the eLearning course, this format is delivered in a classroom by a 3B tutor.
If you would like to book one or more spaces on a Manual Handling course or would like to enquire about a group booking, visit the Manualandling course page here.
Further Development
When you have completed the course, your certificate will be able to download from the platform instantly. Your certification is valid for three years then must be renewed by completing the course again.
The course is also available as a short classroom course. This course covers some practical elements that you cannot replicate online. To see our upcoming Manual Handling classroom dates here.
NEXT AVAILABLE COURSES
Buy This Course
Manual Handling eLearning

eLearning - 02 Oct 2030

£20 + VAT
Are you interested in other eLearning Courses?
VIEW MORE COURSES