NEBOSH General Certificate
NEBOSH general certificate is a training course that will improve your knowledge of your health and safety responsibilities to make your workplace safer.
The course will cover health and safety topics that will help you manage risks effectively, reducing workplace accidents and ill-health.
Accredited by NEBOSH
Content developed with input from leading experts and organisations
Internationally recognised qualification
Gain health and safety knowledge and skills
Lifetime qualification
We offer NEBOSH general certificate online, classroom, in-house and eLearning courses.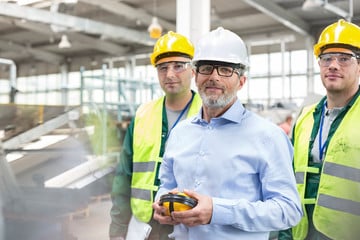 NEBOSH General Certificate course content
NEBOSH's practical approach promotes the application of the knowledge acquired in the course to problem-solving within the workplace. NEBOSH Certificate is the equivalent to an NVQ Level 3 / A-level qualification.
The course will follow the new NEBOSH syllabus for the National General Certificate.
The content covered by the course includes:
NG1 – Management of Health & Safety
This unit covers HSE legislation, health & safety knowledge and health & safety management systems.
1. Why we should manage workplace health and
safety
2. How health and safety management systems work
and what they look like
3. Managing risk – understanding people and
processes
4. Health and safety monitoring and measuring
NG1 Assessment – Open Book Examination (1 day)
To pass, you will need to complete an Open Book Examination. You will also have a practical assessment to complete (NG2) which you will submit after the Open Book Examination.
You have remote access to the Open Book Examination on a set day for a 24-hour window to complete it. We also require you to attend a short interview (approx 15 minutes) within a few days of completion; you will be allocated a time for this upon booking.
NEBOSH will be available for technical support throughout the 24-hour window of the examination. To find out more about Open Book Examinations contact the 3B team through the enquiry form on this page.
NG2 – Risk Assessment
5. Physical and psychological health
6. Musculoskeletal health
7. Chemical and biological agents
8. General workplace issues
9. Work equipment
10. Fire
11. Electricity
Within 10 days of completing the NG1 Open Book Examination, the delegate must hand in their completed practical assessment.
NG2 Assessment – Practical Submission
This a practical risk assessment to demonstrate your ability. You will complete a risk assessment and follow up with an action plan for your workplace. This information can be used as an actual risk assessment for your workplace.
How long is this course?
This course is 10 days long and spread over several weeks. Your tutor will also give you additional study hours, which will equate to around 40 hours of learning.
Week 1 (five days): NG1 (Open Book Examination completed remotely).
Week 2 (five days): NG2 (Risk Assessment Practical Submission).
Please note our NEBOSH General Certificate in Occupational Health & Safety and NEBOSH Health & Safety Management for Construction courses are delivered together as an integrated course.
Why should I attend this course?
Managers, supervisors and staff from all types of organisations who need a broad understanding of health and safety should attend this course. If you currently have health and safety responsibilities in your role; this course will help you to conduct them properly and in line with legislation.
When booking a full NEBOSH Certificate with 3B, you can expect to benefit from the following support:
Training and assessment fees
NEBOSH approved textbook
3B NEBOSH study pack providing additional support and guidance
Comprehensive tutor support from an experienced Health and Safety professional throughout your course
NEBOSH registration fees
The course will provide you with valuable knowledge and tools that can be used throughout your career. You will also have a globally recognised qualification that can open many doors in health and safety related roles, whether that be a progression in your company or looking for employment.
The NEBOSH General Certificate is relevant to any organisation; the knowledge gained can be applied to various industries and offer a lot of options for your health & safety career.
From a business' point of view, having a NEBOSH qualified individual in the organisation can help to improve the businesses' health and safety culture and provide valuable in-company expertise.
Entry requirements
There are no formal entry requirements for this course.
We advise that you have an understanding of the English language and the basic fundaments of the course. 
We want to make sure that you understand the content delivered in the course so that you can complete the course and pass. If you do not understand the basics of the course, it may not be for your level of expertise.
Is this course accredited?
Yes, the course is accredited by NEBOSH. NEBOSH is a globally recognised provider of health, safety and environment qualifications. A large number of health & safety roles require NEBOSH qualifications; they are considered quality training courses that demonstrate the holder's competency.
Where can I take this course?
NEBOSH General Certificate can be completed in the classroom, by Blended Learning or by eLearning.
Public Classroom Courses
Classroom-based NEBOSH General Certificate courses are available to attend in our training venues nationwide. Our public course dates are advertised throughout the year; this gives our customers plenty of option when it comes to choosing dates and location. Companies and individuals can book the course over the phone or directly online through our website.
Please view all of our upcoming NEBOSH General course dates here.
In-house Courses
We can also arrange the NEBOSH General Certificate course in-house specifically for your delegates. We can deliver the course at one of our training venues or a venue of your choice. In-house NEBOSH Certificate courses are ideal for encouraging the delegates to discuss your company's health and safety procedures and culture.
For us to deliver a NEBOSH course in-house, there must be no more than 20 delegates attending. Delegates must also sit the designated exams provided by NEBOSH. We price our in-house courses on a case by case basis. The location and the number of delegates will factor on the price of the training. For a quote, complete the in-house training enquiry form on this page, and one of the team will be in touch.
Blended Learning
Blended Learning is an option for delegates who would prefer not to complete the course in a classroom. This format allows the delegate to study for the exam themselves with their textbook. They will also receive a support folder from 3B, containing policies, guidance and example exam questions.
Delegates will also receive online support from a NEBOSH approved tutor. They will have access to one-on-one video calls with the tutor in which they will receive support on various subjects. The delegate has up to five calls to use; each call is one-hour long.
For more information on the NEBOSH General Certificate Blended Learning, visit the eLearning course page here.
eLearning Courses
The NEBOSH General Certificate is also available to complete as an eLearning course. The learner completes this learning format is online in their own time. All they need to do to complete the course is log in with the details that we provide and finish all the units.
For more information, visit the eLearning course page here.
Further Development
On completion of the course, you will be sent a NEBOSH certificate within 6-8 weeks of your exam results. You do not need to renew your NEBOSH Certificate.
Holders of the certificate are also entitled to Associate Membership (AIOSH) of the Institution of Occupational Safety and Health (IOSH). The qualification also meets the academic demands for Technical Membership (Tech IOSH) of IOSH.
If you work in a construction-related role, you may want to complete the NEBOSH Construction Certificate. This course will cover construction-specific health & safety content and will help you get a career working in that sector.
Other courses available to those who want to become a health & safety practitioner include NVQ Level 3 Health & Safety or the Level 6 NVQ Health & Safety. The health & safety NVQs are used to show individuals competency in their role. To complete an NVQ, you must provide various examples of evidence of competency in your role and that you are working to the right standard.
NEBOSH General Certificate Unit Pricing
It is possible to book each unit or exam separately. If you would like to do this, please contact the team.
Prices are as followed:
Full course (10 days) & exam & practical – £1,300
NG1 (4 days) learning only, no exam – £433
NG2 (6 days) & practical learning only, no assessment – £649
NG1 Open Book Exam & interview exam only – £119
NG2 risk assessment – £99
GC2 resits – £295
GC3 practical resubmit – £99
NEXT AVAILABLE COURSES
Next Available Courses
NEBOSH General Certificate

Wigan - 03 Apr 2023

£1320 + VAT

NEBOSH General Certificate

Online - 03 Apr 2023

£1300 + VAT

NEBOSH General Certificate

Leeds - 03 Apr 2023

£1320 + VAT

NEBOSH General Certificate

Liverpool - 03 Apr 2023

£1320 + VAT

NEBOSH General Certificate

Liverpool - 05 Jun 2023

£1320 + VAT

NEBOSH General Certificate

Leeds - 05 Jun 2023

£1320 + VAT

NEBOSH General Certificate

Wigan - 05 Jun 2023

£1320 + VAT

NEBOSH General Certificate

Online - 05 Jun 2023

£1300 + VAT

NEBOSH General Certificate

Online - 07 Aug 2023

£1300 + VAT

NEBOSH General Certificate

Leeds - 07 Aug 2023

£1320 + VAT

NEBOSH General Certificate

Wigan - 07 Aug 2023

£1320 + VAT

NEBOSH General Certificate

Liverpool - 07 Aug 2023

£1320 + VAT

NEBOSH General Certificate

Wigan - 09 Oct 2023

£1320 + VAT

NEBOSH General Certificate

Liverpool - 09 Oct 2023

£1320 + VAT

NEBOSH General Certificate

Leeds - 09 Oct 2023

£1320 + VAT

NEBOSH General Certificate

Online - 09 Oct 2023

£1300 + VAT
Can't see the course date or location you are looking for?
VIEW MORE COURSES