NRSWA Supervisor Training Course
NRSWA Supervisor is a training course designed to educate supervisors on the health & safety aspects of street works.
Accredited training course.
Five days of training.
Learn how to supervise work for a safer site.
Practical elements included.
Available to complete as an in-house course.
Valid for five years.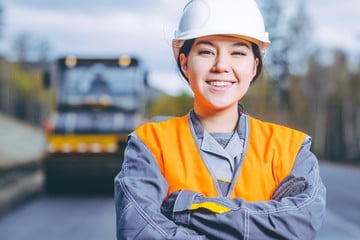 NRSWA Supervisor Training course content
What does the NRSWA Supervisor course cover?
The course covers the following units through classroom-based learning.
001 – Location & avoidance of underground apparatus (can be attended as an individual course)
002 – Signing, lighting and guarding (can be attended as an individual course)
011 – Monitoring excavation in the highway
012 – Monitoring reinstatement & compaction of the backfill layer
013 – Monitoring reinstatement of sub and road base in a non-bituminous material
014 – Monitoring reinstatement of bituminous materials (may not be included in the course)
015 – Monitoring reinstatement of concrete slabs (may not be included in the course)
016 – Monitoring reinstatement of modular surfaces and concrete footways
Please note: delegates do not complete all units at each centre. 3B Training provides further information.
Course Objectives
On completion of the course, the delegates will be able to perform supervisory duties to the level required by the NRSWA Act 1991 and ACOP. They will be able to monitor work activities but must not partake in the physical work themselves.
What is Required to Pass the NRSWA Supervisor Course?
To pass the course, delegates will need to complete a multiple-choice written assessment paper.
How long is the NRSWA Supervisor course?
The course is delivered over five days.
Why should I take this course?
Supervisors and operatives who monitor the work on the roadways and highways should attend the course.
NRSWA Supervisor Training entry requirements
Delegates attending should be able to speak and understand English well.
The course can be delivered at your site, subject to approval by the awarding body.
Where can I take this course?
In-house Courses
We currently only offer the New Roads and Street Works for Supervisors as an in-house course in the classroom. We work with a variety of NRSWA providers across the UK who deliver the course on behalf.  The course can be arranged for a maximum of 8 delegates per tutor.
We price each in-house course on a case-by-case basis; we consider the course location and number of delegates for each quote. For a  quote, complete the in-house training enquiry form on this page.
Further development
Successful completion of the NRSWA Training course will result in you gaining a City & Guild or CABWI (location dependent) Street Works Card. The card is valid for five years. To renew, you will need to attend a 2-day requalification course.
If you work in a physical role, you may want to complete the NRSWA Operative course instead?  You will learn all the aspects needed to work safely on the street works site.
You can also attend individual units on their own such as CAT & Genny / Cable Avoidance and Signing, Lighting and Guarding.