NVQ Level 2 in Construction Operations and Civil Engineering Services
NVQs – NVQ Level 2 in Construction Operations and Civil Engineering
Construction Operations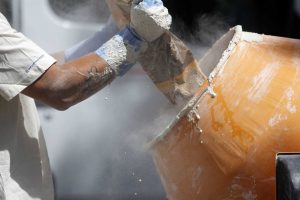 The NVQ Level 2 in Construction Operations qualification allows the learner to show their competency in their occupation.  By obtaining the qualification the learner will have solid evidence that they are working to the required industry standard.
Course price:
£950 + VAT
Course length:
Approx. 9 – 18 months
Who is it for:
Construction Operatives who are aiming to gain the Blue CSCS Card or Skilled Worker Card.
Course Content
NVQ Level 2 Construction Operations
The learner will be assessed in their workplace through a variety of ways, such as evidence generated from the workplace, observations, professional discussions, written questions and witness testimonials. The qualification includes the below mandatory units:
Conforming to General Health, Safety and Welfare
Conforming to Productive Working Practices
No matter which pathway the learner chooses; they must gain the minimum amount of credit from the below optional units:
Segregating in the Area for Highways
Establishing Safety and Work Area Protection
The learner must then choose the pathway in which they want to go down.  Each pathway has its own mandatory and optional units which will be highlighted by your assessor. Take a look below at the categories available:
Modular Pavement Construction
Laying Kerbs and Channels
General Building Operations
Drainage Construction
Structural Concreting
Non-Structural Concreting
General Construction
Excavation and Reinstatement
The below additional units are available for all categories:
Storing, Moving and Handling
Reinstating Highway Surfaces and Excavation
Installing Street Ironwork
Operating and Preparing Forward Tipping Dumpers to Discharge, Receive and Transport Materials.
Preparing to, Guiding and Directing the Movement of Machinery, Vehicles or Plant.
Operating and Preparing Powered Units, Machinery or Equipment, Tool or Pedestrian Plant
Signalling and Slinging the Movement of Suspended Loads
Reinstating Ground Condition
Dismantling and Erecting Working/Access Platforms
Providing Temporary Excavation Support
Operating and Preparing Ride-On Rollers for Compact Materials
Arranging, Securing and Preparing for Plant or Machinery for Transportation
Entry Requirements
Learners must be or be above the age of 16 and have no restrictions in their occupation which may affect them completing the NVQ.  They must also complete an informal pre-enrolment suitability discussion.
Contact Us Today
If you require any further information or would like to enrol onto an NVQ, please do not hesitate to get in touch. 3B Training's NVQ contact is our NVQ Advisor, Rob Boardman. You can email Rob on rob.boardman@3btraining.com or you call us to speak to him over the phone. Once you have enrolled, Rob will arrange a sign-up meeting and assign you with an assessor who will guide you through the process.
On-Site Job Roles in The Construction Industry
Looking to further your career in the construction industry and would like to know what jobs are available. Take a look at our blog here.