NVQ Level 2 Site Carpentry (Wood Occupations)
The NVQ Level 2 qualification in Site Carpentry is a competency-lead course for those who work in the construction sector. The qualification shows that you have the relevant knowledge to conduct their role.
Nationally recognised accredited qualification.
Gain your CSCS Blue Skilled Worker Card.
Can be completed in your own time.
Help you to gain employment and customers.
CITB Grant Claimable.
Lifetime qualification.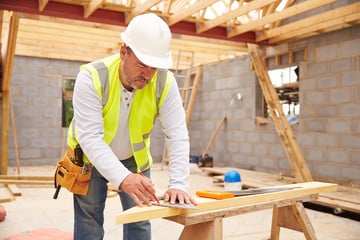 NVQ Level 2 Site Carpentry course content
Once you have enrolled, 3B will assign you with an assessor who will guide you throughout the process.
The assessor will organise an initial induction meeting to help you to plan out how you will build your portfolio. The induction will be followed up by several review meetings in which the assessor will check on your progress.
The assessor will evaluate you through a range of methods, including; written questions, evidence generated from the workplace, observations, professional discussions and witness testimonials.
The Site Carpentry pathway of the Wood Occupations qualification covers the following units.
Moving, handling and storing resources
Conforming to general health, safety and welfare in the
workplace
Conforming to productive working practices in the
workplace
Setting up and using transportable cutting and shaping
machines
Erecting structural carcassing component
Installing first fixing components
Maintaining non-structural carpentry work
Installing fire-resisting timber door assemblies and
door sets
Setting up and using transportable cutting and shaping
machines in the workplace
To pass the NVQ, you must provide the required evidence for each unit of the qualification. Once this has been done, the assessor will review the portfolio and relay the feedback. Once that you respond to the feedback, the portfolio will be sent to the IQA. The IQA will have the concluding decision on whether any additional evidence is needed or if the qualification is complete.
How long is a Level 2 Site Carpentry NVQ?
The duration of the course depends on how promptly you can gather the relevant evidence. If you can collect your evidence quickly, you can work with your assessor to qualify sooner.
Although some learners need to balance the qualification around their busy schedule; they will be able to complete the course at a pace that suits them.
Why should I take this course?
Carpenters or operatives in a similar role, who are looking to obtain the Blue CSCS Card or Skilled Worker Card should attend this course. The card is used to show that you have the ability and knowledge to be conducting your role properly.
NVQs are renowned in the industry a quality qualification. Employers will look for the certificate and card when they are employing workers. An NVQ can also assist you in progressing within your current role.
If you are self-employed, an NVQ can be a great way to show your customers that you are qualified in your trade. Therefore, opening up future work opportunities.
If you are looking to get into the industry, as a change of career, or starting as an apprentice; an NVQ can be a great way into the sector. NVQs allows you to gain a qualification whilst working; giving you a mixture of practical and theoretical knowledge.
NVQ Level 2 Site Carpentry entry requirements
The qualification is designed to assess your ability in your current job role. Therefore, you must be working as a Joiner or Site Carpenter and be aged 16 or above to enrol.
If you are unsure about your suitability to the NVQ, we will be happy to check for you. For a suitability check, simply get in touch via the enquiry form on this page. If the qualification isn't suitable for you, we will find one more suitable.
Where can I complete this course?
Companies across the country can book their learners onto NVQs online via our website or over the phone. Individuals can also book themselves on directly in the same way.
No matter where you are based, you can complete an NVQ with 3B Training. The majority of the work can be completed by you, and the rest can be assessed at your workplace by your assessor.
Is this course accredited?
Yes, the course is accredited by either ProQual or GQA Qualifications.
Both awarding bodies offer vocational courses for individuals in the construction sector. Each NVQ is developed in line with the industry's requirements and are continually updated so that they remain relevant and useful.
Further development
Upon achievement of the NVQ, you will be able to apply for your Blue Skilled Worker. This card will show that you have the relevant knowledge to be conducting your role properly.
You will also receive an accredited certificate. The certificate does not have an expiry date and does not need to be renewed.
As a construction worker, you should have a primary level of safety training. To assure that you are safe on site you should improve your understanding by attending the First Aid at Work, UKATA Asbestos Awareness and Face Fit Testing.
Is this course CITB Grant claimable?
Yes, CITB registered companies can claim £600 worth of grant per leaner. To claim, they will need to make a manual claim themselves. Find out how to claim here.
NEXT AVAILABLE COURSES
Next Available Courses
NVQ - Approx 3 - 18 months

£950.00 + VAT