NVQ Level 2 Bricklaying Course (Trowel Occupations)
The NVQ Level 2 in Bricklaying (Trowel Occupations) is a competency-based qualification for those who work in the construction industry. The qualification is used to prove that you are competent in your current occupation.
Nationally recognised accredited qualification.
Gain your CSCS Blue Skilled Worker Card.
Can be completed in your own time.
Help you to gain employment and customers.
CITB Grant Claimable.
Lifetime qualification.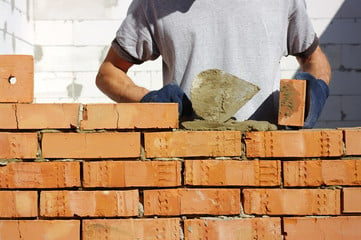 NVQ Level 2 Bricklaying course content
Once you have been enrolled onto the NVQ, you will be assigned an assessor who will support you throughout the process.
You will attend an initial induction at the start of the process with the assessor. The assessor will help you to gather all the evidence that you need to complete the course and regularly check up on your progress.
The assessor will assess you on-site through a range of methods, such as professional discussions, written questions, witness testimonials, observations and evidence generated from the workplace. The NVQ course structure includes a set of mandatory units.
Conforming to general health, safety and welfare
Erecting masonry structures (brick and block / local material)
Conforming to productive working practices
Setting out to form masonry structures
Moving, handling and storing resources
To gain the required amount of credits, you can also choose from the selection of optional units. If you require any clarification on what each unit entails please contact the team.
You are required to gather all the relevant evidence for every unit of the NVQ to pass. After completing every unit, the assessor will review your portfolio and will provide any feedback. Once you have responded to the feedback and the assessor is happy, the portfolio is then passed onto an IQA. The IQA will have the final decision on if the qualification is complete.
How long is a NVQ Level 2 Bricklaying course?
The course length will depend on how quickly you can gather the relevant evidence to complete the NVQ.
Some learners will have most of the evidence already and will be able to finish quicker; whereas others may have to fit the NVQ around a busy schedule and take longer.
Why should I take this course?
Construction workers who are looking to gain their Blue CSCS Card or Skilled Worker Card should attend this course. The Skilled Worker card can be used as proof that you are competent in your role.
NVQs are widely recognised across the construction industry as a quality qualification. Employers who are looking for operatives will be looking for workers who hold this qualification. The Level 2 NVQ will put you ahead of the pack when applying for work; it is also a great way to show any customers that you may have that you are qualified.
Apprentices and new starters in construction use the qualification as a gateway into the industry. The balance of theory and practical learning is beneficial for those who need to build knowledge and experience of the role.
NVQ Level 2 Bricklaying entry requirements
The qualification will your learner's capability in your current job role. You must be the age of 16 or over to enrol and must be in full employment as a Bricklayer.
If you are unsure on your suitability to the qualification, you can contact 3B Training via the enquiry form on this page. If we find that you would be better placed elsewhere, we would move you to a different NVQ.
Where can I complete this course?
NVQs are available to book over the phone or directly online by learners across the UK. Companies can also book learners onto NVQ on their behalf.
The benefits of an NVQ is that it can be completed by you, at your workplace, in your own time. The assessor will also regularly visit your workplace to conduct any required assessments.
Is this course accredited?
Yes, this course is accredited by ProQual or GQA Qualification.
ProqQual has a wide offering of construction-related qualifications. They work closely with industry specialists to develop their NVQs to ensure they are relevant and somewhat unique.
GQA specialise in NVQs for the construction industry. They recognise the needs of learners in the sector and develop their qualifications to suit them.
Further development
Upon completion of the NVQ, you will receive a certificate confirming your qualification. You will also be able to apply for you Blue Skilled Worker CSCS card. The card will show that you have the relevant knowledge to be conducting your role.
As a Construction Operatives, you should have a basic level of training to ensure that you are safe on site. You may also want to complete the First Aid at Work, UKATA Asbestos Awareness and Manual Handling.
Is this course CITB Grant claimable?
Yes, companies who are CITB registered can claim £600, but they will need to make a manual claim themselves retrospectively. Find out how to claim here.
NEXT AVAILABLE COURSES
Next Available Courses
NVQ - Approx 3 - 18 months

£950.00 + VAT