NVQ Level 3 in Occupational Health & Safety
NVQ Level 3 Occupational Health and Safety is a competence-based qualification for those who are responsible for health and safety in their workplace. The course will assure that you are able to practice your role up the standard required and competently.
Nationally recognised accredited qualification.
Flexible qualification, that can be complete around your schedule.
Develop your health & safety knowledge.
Can be completed mostly online.
Progress as a health & safety practitioner.
Lifetime qualification.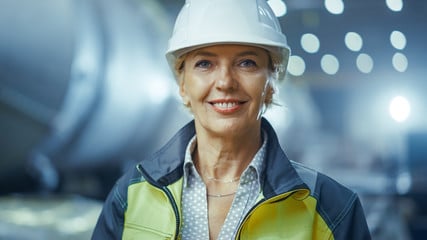 NVQ Level 3 in Occupational Health & Safety course content
Upon enrollment, you will be introduced to your assessor.
The assessor will induct you remotely and plan how you will gather the required evidence to complete the NVQ. Your assessor will regularly review you throughout the process. They will be available to support you if they are ever needed and will help to keep you on track to completion.
You will be assessed in the workplace by a range of methods. Such as evidence generated from the workplace, witness testimonials, professional discussions, observations and written questions. Assessors carry out assessment calls via Skype throughout the process. The NVQ course structure includes the following mandatory units:
Developing procedures to control work operations safely
Promoting a culture of health and safety in the workplace
Ensuring responsibility for actions to reduce health and safety risks
Monitoring procedures to safely control work operations
Conducting a health and safety risk assessment of the workplace.
You will also have to gain the relevant amount of credits from the below optional units:
Aiming to protect the environment through actions in the workplace
Supervising the health, safety and welfare of a learner
Evaluating and investigating health and safety complaints and incidents in the workplace.
Reviewing health and safety procedures in the workplace.
To pass the NVQ, you are required to complete each of the units by providing the relevant evidence. Once all of the units have been completed, the assessor will review the portfolio and provide any feedback. After you have responded to the feedback, the portfolio will be sent to an IQA who will have the final decision on if the NVQ is complete.
How long is a Level 3 in Occupational Health & Safety NVQ?
The time it takes to complete the NVQ is dependant on how quickly you can gather the relevant evidence. The qualification doesn't have set time limit and can be completed at your own pace.
Why should I take this course?
Personnel who have health & safety responsibilities in their day-to-day work should enrol onto this NVQ.
The NVQ will help you to develop your health & safety knowledge and be able to practice it in the workplace. By knowing you are working up to the required standard, you are helping to make the workplace a safer place.
If you are looking to progress in a health & safety-related career, this qualification is a great starting block. With the NVQ you can gain on the job experience of health & safety responsibilities which will give you the foundations to advance.
NVQs are nationally-recognised, they hold a lot of weight as a quality qualification throughout most industries. When you are looking for work, the Level 3 NVQ can be used as proof of your understanding to employers.
NVQ Level 3 in Occupational Health & Safety entry requirements
The qualification will assess your competence in their current job role. Therefore you must be working in health & safety-related role and above the age of 16 to complete the NVQ.
You will also need to provide a copy of your CV and have an appointed individual in your organisation to provide witness testimonials to enrol. This is to establish if you are eligible for the course.
Where can I complete this course?
Our Health & Safety NVQs are available to complete nationwide. The NVQ can be booked directly online via our website or over the phone. The course is easily accessible through our booking system, which makes it easy for individuals and companies to book.
This NVQ can be evaluated remotely by our assessors. As long as we do not need to do any on-site assessments, your location doesn't matter. Your assessments can be completed over a video or phone call.
Is this course accredited?
This course is accredited by ProQual AB.
ProQual is an Ofqual approved awarding body who develop and award qualifications. They are nationally known for delivering a high-quality course for training providers in a range of sectors.
Further development
On completion of the NVQ, you will be awarded a qualification certificate. This certificate does not expire and does not need to be renewed.
To progress further, you should complete a higher level of health & safety qualification. If you working in a managerial or supervisory role, a good next step would be to complete the IOSH Managing Safely® course.
If you are looking to enhance your health & safety knowledge even more; further qualifications include the NEBOSH Construction Certificate and NEBOSH General Certificate.