NVQ Level 3 in Decorative Finishing and Painting Occupations – Painting and Decorating
NVQs – NVQ Level 3 in Decorative Finishing and Painting Occupations
Painting and Decorating
The NVQ Level 3 in Painting and Decorating qualification allows the learner to show their competency in their occupation.
Course price:
£1,000 + VAT
Course length:
Approx. 9 – 18 months
Who is it for:
Painters and Decorators who are looking to obtain their Gold Advanced Craft Card.
Course Content
NVQ Level 3 in Decorative Finishing and Painting Operations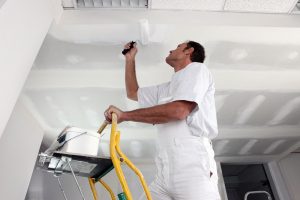 The learner will be assessed on site through a range of methods, such as evidence generated from the workplace, professional discussion, witness testimonials, observations and written questions. The required course structure includes the following mandatory units:
Maintaining and Developing Good Occupational Working Relationships
Dismantling and Erecting Access Working Platforms
Applying Paint Systems to Complex Surfaces by Brush
Confirming Resources and Work Activities for an Occupational Work Area
Confirming the Occupational Method of Work
Preparing Surfaces for Painting and Decorating
Conforming to General Health, Welfare and Safety
They must also select one of the below optional from category B1:
Hanging Wide-width Viynls in the Workplace
Hanging Standard Paper Wallcoverings
Then one from category B2 to gain the relevant amount of credits:
Applying Coatings by the Air Spray Method
Hanging Wallcoverings to Complex Surfaces
Producing Comb Textured Finishes
Installing Decorative Mouldings and Coving
Producing Broken Colour Work
Producing Straight Edge Grained Effects
Producing Marbling Effects
Applying and Producing Complex Stencils
Hanging Specialised Paper Wallcoverings
Applying Metal Leaf to Surfaces
Applying Coatings to Produce Textured Finishes
Producing Stencil Designs using Pre-cut Stencil Plates
Producing Quality Replica Grained Finishes
Producing Quality Replica Marble Finishes
Entry Requirements
Learners will be contacted before they are enrolled on the NVQ for an informal discussion to fathom whether they are suitable to be enrolled on the course. They must be the age of 16 or over and be currently in employment.
Contact Us Today
If you have any questions about the NVQ please do not hesitate to contact us or email our NVQ Advisor, Rob Boardman on rob.boardman@3btraining.com.
On enrolment of your NVQ, he will be the one who will contact you to arrange an introductory meeting. He will also go through how to complete the NVQ process and will assign you with an assessor who you can consult for advice throughout the course.
How will the Face Fit Testing Workshop benefit you?
In most construction trades, you and your workforce are required to wear the relevant RPE (respiratory equipment). Take a look at how the Face Fit Testing Workshop can help to ensure you and your workers are fitted with the relevant RPE here.