NVQ Level 5 Controlling Lifting Operations
NVQ Level 5 Controlling Lifting Operations is a construction qualification that you can use to show that you are competent in conducting your role in planning lifts.
You will develop your knowledge of executing lifting operations and working within good practice and regulations throughout the qualification. As a result, you will finish the NVQ as a qualified individual who will confidently conduct their role with increased opportunities and progression.
Nationally recognised accredited qualification
Gain your Blue CPCS Card
You can complete it in your own time
Help you to gain employment
Work to the industry standard
CITB Skills and Training Fund and Grant Claimable
Lifetime qualification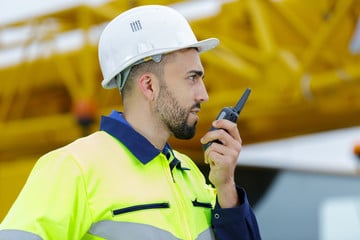 NVQ Level 5 in Controlling Lifting Operations content
Upon enrolling.
You will be assigned an assessor who will help you build a portfolio to complete the qualification. The assessor will induct the learner on-site or remotely if they prefer.
Throughout the induction.
The assessor will outline how you will assemble all the relevant evidence to achieve the qualification. They will then regularly review your progress to provide you with any advice and make sure you are on track.
The assessor reviews you on-site through a range of methods.
Such as observations, professional discussion, witness testimonials, evidence generated from the workplace and written questions.
You must provide evidence of:
Developing and maintaining good occupational working relationships
Planning Lifting Activities Using Cranes and Lifting
Equipment
Identifying, Allocating and Planning the Deployment and Use
of Plant, Equipment or Machinery
Evaluating and Selecting Work Methods to Meet Project or
Operational Requirements
Planning and Establishing Health, Safety, Welfare and
Environmental Systems for Lifting Operations
Planning Activities and Resources to Meet Work
Requirements
Evaluating and Selecting Work Methods to Meet Project or
Operational Requirements
Contact a 3B Training Advisor for more information.
To pass the NVQ, you must gather all the relevant evidence to complete each unit. By doing so, you will show that you are competent enough to receive the qualification.
The assessor will then go through the completed portfolio and provide any feedback. Once that you have responded to the feedback, the portfolio will then go to an IQA. The IQA will decide whether the qualification is complete or if any additional evidence is needed.
How much does the NVQ Level 5 in Controlling Lifting Operations cost?
The cost of this qualification is £1320 +VAT.
How long is a Level 5 in Controlling Lifting Operations NVQ?
The time it takes to complete the NVQ is dependant on your ability to gather all the evidence needed to finish the NVQ.
You can complete the qualification at a pace that suits you. You can complete the course gradually around your schedule. Or, if you prefer, you can work with your assessor to get the qualification done quickly.
Why should I take this NVQ?
Construction Operatives looking to obtain the Blue CPCS Card or Blue Competent Operator card should enrol on this NVQ. By having the card, you will prove that you are competent and qualified at controlling lifting operations.
NVQs hold a lot of weight in the industry. They provide reassurance to employers that you are capable of conducting your role properly and safely. The qualification will help you to progress into skilled roles within your current company or when looking for work.
NVQ Level 5 Controlling Lifting Operations entry requirements
You must be 16 or over and work as a Lift Planner, Crane Supervisor or a similar role to complete this NVQ. The qualification will assess your ability to work in your current occupation.
For more information on qualification suitability, contact 3B Training via the enquiry form on this page. If we find that the qualification isn't suitable, we will find you a different one.
Where can I complete this NVQ?
NVQs can be booked online via our website or over the phone by individuals and companies across the country.
The majority of NVQs can be completed in the workplace by you. As long as we have a local assessor who can visit you for any face-to-face requirements, the location shouldn't be an issue.
Any other units can be completed remotely over a video call, phone call or email.
Is this NVQ accredited?
This course can be ProQual or GQA Qualifications accredited.
Both awarding bodies produce vocational qualifications for the construction and civil engineering sector. Their qualifications are frequently evaluated to ensure that they are up to date and relevant for their learners.
Further development
Once the qualification has been completed, you will apply for the Blue Competent Operator Card. This will show that you have the relevant qualifications to be able to work in your role.
You will also receive a certificate, which is a lifetime qualification that doesn't expire and does not need to be renewed.
You may also need to complete an NPORS Accredited Course to obtain the Red Trained Operator Card. NPORS offers a range of Lift Trucks & Cranes courses. Take a look at the course available here.
Is this NVQ CITB Grant claimable?
Yes, Both CITB Skills and Training Fund & Grants can be claimed by CITB registered companies for all NVQs (with the exception of Occupational Health & Safety).
Learn more about how much you can claim. You will need to make a manual claim retrospectively. Find out how to do this here: CITB Levy, Grants & Funding.
The CITB Skills and Training Fund is a pot of funding that micro, small  and medium sized construction companies can use to improve the skills of the construction industry.
You can apply if:
you are a CITB-registered employer
you have 1-250 directly employed staff on the payroll
any previous project paid for by the Skills and Training fund has been signed off as complete.
Find out more about the CITB Skills and Training Fund here.
Payment Plan
We offer interest-free payment plans on all NVQs.
Options include:
50/50: 50% payable upon booking, 50% payable upon completion.
4 equal payments, over the first 4 months.
Please speak to the NVQ Team when enquiring/booking to arrange this.