Safe Use Of Ladders & Step Ladders Course
Safe Use Of Ladders & Step Ladders ensures that you are competent and safe when using a ladder or step ladder. The course will teach you when appropriate to use a ladder/stepladder, inspect a ladder, and the associated regulations surrounding them. The knowledge you gain will help keep yourself and others safe from falling from height and ensure that you are working legally on site.
This courses is available in house, for delivery at your location, saving you time and money on sending your teams out for training.
To find out more fill out the enquiry form on the right.
Qualify in just three hours.
Learn how to work safely on ladders and stepladders.
Understand the legislation surrounding ladder safety.
You can complete this course in the classroom.
We can deliver this course in-house.
Valid for three years.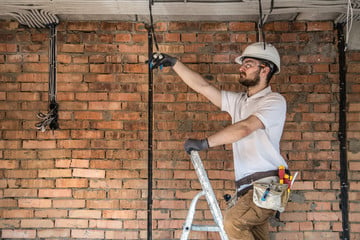 Safe Use Of Ladders & Step Ladders course content
The tutor delivers the course through a range of mediums and includes classroom tutorials and practical activities.
An introduction to ladder safety
Handrails and toe boards
Legislation and regulations
Use of stabilisers and outriggers
Risk assessments and hazards
Product standards and available products
Storing, maintaining and handling ladders
The course makes sure that you are working in line with HSE legislation. By the end of the Safe Use of Ladders course, you will be able to use ladders and step ladders in a way that is safe for yourself and those around you. You will also have the relevant knowledge which allows you to conform to the appropriate legal requirements.
Assessment.
You will be assessed through a short multiple-choice assessment paper at the end of the course.
How long is a Ladder Safety course?
We deliver the course over three hours.
The short duration allows you to gain the knowledge you need quickly and only cover the necessary content.
Why should I take this course?
Ladder and stepladder users and anyone who needs to know the risks associated with ladder/stepladder use should attend this course.
Ladders account for around 40% of falls from height accidents in the UK. The knowledge that you gain will help you prevent you or anyone you are working with from becoming part of that statistic.
You will also leave the course with knowledge of Work at Height Regulations 2005 and work in compliance with it.
Selecting the right ladder for the right task doesn't should aid safety, but it aids productivity. You will learn about ladder inspection and selection on the course, which will help maintain efficient work that you usually hinder by wrong ladder selection or broken ladders.
Safe Use Of Ladders & Step Ladders entry requirements
There are no formal requirements for this course.
We also ask that you have a good level of speaking and understanding English.
To leave the course and work safely, you must understand all the content delivered to you or put yourself and others at risk.
Is this course accredited?
Yes, 3B Training accredit this course.
We work hard on reviewing and developing our course content so that the content is as up to date and helpful as possible.
Where can I complete this course?
We deliver this course in the classroom.
Public Classroom Courses
Classroom delivered Ladder Safety courses are available as public courses in all of our training venues. A tutor delivers the course in a classroom of up to 12 delegates. In addition, individuals and companies can book spaces on the range of Safe Use of Ladders and Stepladders courses we have available either over the phone or online via our website.
In-house Courses
We can also arrange for the Ladder Safety course as an in-house course specifically for your company. In-company training is a popular option for larger clients. We can deliver it at a site of your choice, and delegates can interact and discuss company-specific examples during the training. To run an in-house course, we need a minimum of 4 delegates and no more than 12 delegates. To enquire, fill in our in-house enquiry form on this page; we provide all of our quotes on a case by case basis depending on location, delivery type and delegate numbers.
Further development
6-8 weeks upon completion of the course, we will send you a 3B accredited certificate. The qualification is valid for three years before you must renew your certification. To continue, you must reattend the Ladder Safety course.
We offer several courses which are complementary to the Safe Use of Ladders training course. For example, Working at Heights, Safety Harness, and the Scaffold Training courses are often relevant to similar occupations.
Is this course CITB Grant claimable?
You can claim £30 as long as you provide us with your CITB Levy number either at the time of booking or on the day of the course.
NEXT AVAILABLE COURSES
Next Available Courses
Safe Use Of Ladders & Step Ladders

Doncaster - 01 Nov 2021

£70 + VAT

Safe Use Of Ladders & Step Ladders

Manchester - 08 Nov 2021

£70 + VAT

Safe Use Of Ladders & Step Ladders

Wigan - 18 Nov 2021

£70 + VAT
Can't see the course date or location you are looking for?
VIEW MORE COURSES