Safety Harness Training Course
Safety Harness training covers various topics to help you work safely at height through a harness's proper use. A poor-fitting safety harness can prove very dangerous; that is why training is vital for those who commonly use a harness whilst working at height.  The skills you gain will help reduce the risk of a potentially fatal accident and protect your company from the repercussions of those accidents.
Qualify in just three hours.
Learn how to use a harness correctly and safely.
Understand the relevant regulations of working at height.
You can complete this course in the classroom.
We can deliver this course in-house.
Valid for three years.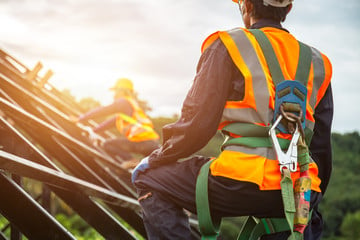 Safety Harness course content
Some of the units that the training course will cover are:
Working at heights and PPE
Lanyard and harness safety
Arranging and preparing risk assessments
Fall prevention
Fall arrest systems
By the end of the course, you will:
Have a better understanding of suitable Health and Safety Legislation
Be able to recognise and select the correct PPE in working at heights situations
Learn how to attach and adjust a lanyard safely
Be able to examine a MEWP harness and its equipment
Know how to exhibit their safety awareness skills
Understand how to inspect the workplace and the equipment needed before using a harness
Be able to weigh up the requirements for preparing and coordinating the workplace
Be capable of organising and planning for emergency procedures
Assessment.
The tutor will assess you through a short multiple-choice assessment paper at the end of the course.
How long is a Safety Harness course?
The course is delivered over three hours of interactive classroom training.
You will gain your qualification quickly and efficiently and learn all you need to know in the short duration of the course.
Why should I attend this course?
This safety harness training course is for anyone who regularly works whilst wearing a harness or lanyard for support and those in need of fall arrest in their occupation.
Safety harness training is critical if you work at height. Falls from height are among the biggest causes of deaths and life-changing injuries in the workplace; this highlights the importance of understanding your safety harness and related PPE.
Not only can a fall from height lead to personal harm, but it can also lead to legal repercussion and investigation into your compliance with legislation. Therefore, to protect yourself and your company, you need to make sure you follow all the right procedures and work in line with the regulations.
Safety Harness Course entry requirements
There are no formal prerequisites for this course.
We ask that you understand English to understand the course's critical safety information fully.
If you would like to bring the harness that you work to the course, you are welcome to do so.
Is this course accredited?
3B Training accredits this course.
We work hard to develop our training courses regularly to ensure our information is as up to date and helpful as possible.
Where can I complete this course?
We deliver this course in the classroom.
Public Classroom Courses
Classroom Safety Harness Awareness courses are available as public course dates across the UK. The course is delivered in a typical classroom format by a tutor in front of a group of delegates. Whether you are booking for yourself or your employees, you can book multiple dates directly through our website or over the phone.
In-house Courses
We can also arrange the course in-house for a group of your employees. If you have a large team that need to be made aware of harness safety, this format is the perfect option. We can tailor the content to your organisation and host at a venue that suits you, whether on your site or at 3B centre. To run an in-house course, we need a minimum of four delegates and no more than 12. To enquire, fill in our in-house enquiry form on this page; we provide all of our quotes on a case by case basis depending on location, delivery type and delegate numbers.
Further development
On completion of the training, we will issue you with a certificate. You will receive your certificate around 6-8 weeks after completion and will have to renew it after three years. To restore the qualification, you must complete the course again.
We offer several complimentary courses to the Safety Harness training; for example, Working at Heights, Ladder Safety, and the Scaffold Training courses are often relevant to similar occupations.
Is this course CITB Grant claimable?
You can claim £30 as long as you provide us with your CITB Levy number either at the time of booking or on the day of the course.
NEXT AVAILABLE COURSES
Next Available Courses
Safety Harness

Manchester - 05 Aug 2021

£70 + VAT

Safety Harness

Wigan - 06 Sep 2021

£70 + VAT

Safety Harness

Doncaster - 13 Sep 2021

£70 + VAT

Safety Harness

Wigan - 27 Jul 2023

£70 + VAT
Can't see the course date or location you are looking for?
VIEW MORE COURSES