Temporary Works Supervisor Course
The Temporary Works Supervisor Training Course (TWSTC) is a one-day course used to provide you with knowledge of the Temporary Works Supervisor role.
CITB Site Safety Plus accredited.
Delivered over one-day of training.
Highly recognised qualification.
Can be attended online or in the classroom.
CITB Grant Claimable.
Valid for five years.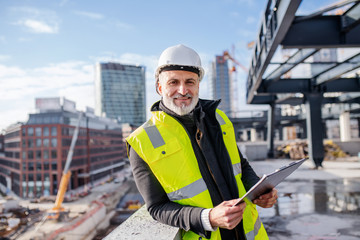 Temporary Works Supervisor course content
The content covered by the CITB training course includes:
Understanding the role of a Temporary Supervisor; the roles and duties of a Temporary Works Supervisor and the roles of others on site.
The code of best practice for temporary structures on building sites; the relevant aspects of BS 5975+A1:2011, and how it used with the role, and legislation and relevant codes of practice.
The value of the communication, co-ordination, co-operation and competency (otherwise known as "the 4Cs").
The need for risk management; risk management on a construction site – both business and safety-related.
Some self-study may be required outside of the course.
Assessment: To pass the course successfully, you will need to get 72% or above in the final exam. You are also persuaded to interact and get involved throughout the course by the tutor.
How long is the Temporary Works Supervisor course?
This is a one-day course that equates to approximately 7.5 hours of learning.
The short duration is enough to cover the content need and deliver a digestible amount of information. You will also only have to spend one day away from work to finish the training.
Temporary Works Supervisor entry requirements
To attend, you must have a strong perception of written and spoken English. This requirement is in CITB's scheme rules, and failure to fit these criteria will have you removed from the course.
You must also have experience in being responsible for managing all forms of temporary works, and have an understanding of the relevant aspects of the BS 5975 revision material.
Photographic ID and your national insurance number must be provided on the first day of the course.
To attend the online TWS course, you must have access to a computer or laptop that uses a microphone and webcam. The above equipment is imperative to you getting the most out of your training and being able to complete the exam properly.
Why should I take this course?
Agents, Managers, and Supervisors who have experience of being responsible for temporary works should attend this course. Completion of the course will not appoint you a competent Temporary Works Supervisor but will give you the health & safety knowledge to help you get there.
Temporary works are a business-critical part of the construction process; therefore, careful supervision is important. The course will help you to understand how to take the role of a Temporary Works Supervisor and its relevance.
This course has the support of a range of organisations including Temporary Works Forum, CECA, UKCG, HSE and FMB. This highlights the recognition the qualification has throughout the industry, its companies and employers.
Is this course accredited?
This is a Site Safety Plus CITB accredited course. Site Safety Plus is a suite of health and safety courses that help to develop the skills of construction, and it's allied industries. SSP courses are some of the leading health and safety construction qualifications in the country.
Where can I complete this course?
This course can be delivered via both classroom-based or Online / Remote Learning.
Public Classroom Courses
Classroom-based Temporary Works Supervisor courses are available throughout the country. The course is delivered in a  classroom environment in which the trainer presents the course for up to 12 delegates.
We have many public dates available over the year; this means delegates can book a place themselves or companies can book on behalf of their employees. One or more places on public classroom courses can be booked over the phone or directly on our website, all of our upcoming Temporary Works Supervisor course dates can be found here.
Remote Learning
Remote Learning TWSTC courses allow delegates to attend the course from home or the workplace. Remote courses remove the extra cost of travel to a physical venue and the time of having to leave home or work. These courses are delivered via a virtual classroom on Zoom in which the tutor presents the course live to the delegates. All delegates need to do to attend is log into the classroom at the courses start time with a computer or laptop connected to the internet. The device must have a camera, microphone and screen.
The content covered mirrors the classroom version of the course. The only difference is the remote version is delivered by a tutor live over video rather than face-to-face. Delegates will still be able to interact with others during the course via video or webchat. All course materials are accessible; the only difference is that they come in the form of a downloadable pdf.  The exam is also delivered online; the delegates will fill in their answers electronically.
Like the classroom course, we have multiple course dates available to book online or over the phone for this course.
In-house Courses
This course can also be arranged to be delivered as an in-house course specifically for your delegates. We can deliver an in-house course at one of our venues or a venue of your choosing. This course can also be delivered in-house via remote learning. In-house training courses are highly-rated as they can be delivered on-site; this allows delegates to interact with each other and relate the content to their company processes and discuss them. A minimum of 4 delegates is required for the course and no more than 12 delegates. We price our in-house courses on a case by case basis. The location, delivery method and the number of delegates will factor on the price of the training. For a quote, complete the in-house training enquiry form on this page, and one of the team will be in touch.
Further development
You will receive your certificate 6-8 week after completion of the course. Your certificate will expire after five years and can be renewed by attending the course again.
If you are looking to advance as a manager or supervisor, you can pick up further role-related health and safety knowledge from the SMSTS and SSSTS. Each will expand your knowledge further of construction site health & safety and the responsibilities of each role.
If you re looking to obtain the Gold Supervisory CSC Card you can do so by completing NVQ Level 4 in Construction Site Supervision. This is a competence-based qualification that shows that you are knowledgeable and experienced as a construction supervisor.
Is this course CITB Grant claimable?
£30 grant can be claimed per delegate who attends by a CITB registered company. For the grant to be claimed the company name and CITB levy number must be included on the delegates information form which is completed before or on the first day of the course.
NEXT AVAILABLE COURSES
Next Available Courses
Online Learning - 05 May 2021

£246.00 + VAT

Online Learning - 12 May 2021

£246.00 + VAT 3 PLACES LEFT!

Online Learning - 19 May 2021

£246.00 + VAT

Online Learning - 21 May 2021

£246.00 + VAT

Online Learning - 22 May 2021

£246.00 + VAT

Online Learning - 24 May 2021

£246.00 + VAT

Online Learning - 26 May 2021

£246.00 + VAT

Online Learning - 02 Jun 2021

£246.00 + VAT

Online Learning - 09 Jun 2021

£246.00 + VAT

Online Learning - 16 Jun 2021

£246.00 + VAT

Online Learning - 23 Jun 2021

£246.00 + VAT

Online Learning - 25 Jun 2021

£246.00 + VAT

Online Learning - 30 Jun 2021

£246.00 + VAT

Online Learning - 01 Jul 2021

£246.00 + VAT

Online Learning - 07 Jul 2021

£246.00 + VAT

Online Learning - 14 Jul 2021

£246.00 + VAT

Online Learning - 21 Jul 2021

£246.00 + VAT

Online Learning - 28 Jul 2021

£246.00 + VAT

Online Learning - 30 Jul 2021

£246.00 + VAT

Online Learning - 04 Aug 2021

£246.00 + VAT
Can't see the course date or location you are looking for?
VIEW MORE COURSES