Traffic Management & Vehicle Banksman Course
Traffic Management & Vehicle Banksman will ensure that site-based traffic management is delivered safely and is done so of high quality. In addition, the course provides you with an understanding of the risks related to the movement of vehicles on site. With this understanding, you will help to protect yourself and others from the risks of being struck by a moving vehicle on site.
Gain your qualification in just three hours.
Keep yourself and others safe from vehicles on site.
You can complete the course in the classroom.
We can deliver the course in-house.
Valid for three years.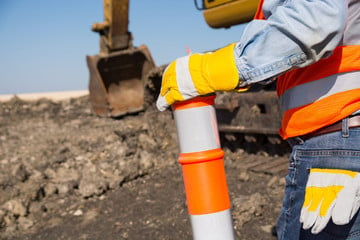 Traffic Management & Vehicle Banksman course content
The tutor teaches the gives you an understanding of the dangers caused by a reversing vehicle. The course will go over techniques and hand signals used to help drivers with manoeuvring reversing vehicles. You will also learn about the following topics:
The roles and responsibilities of colleagues involved
CDM
Setting safety standards and work procedures
Working with the relevant health and safety regulations
The terminology of traffic management
Pedestrian and vehicle routes
Inspection of vehicles
Signalling
Risk Management
How to layout the site safely
You will gain further knowledge in the secure passing of reversing vehicles in confined spaces. You will be able to recognise areas of danger on-site and understand all the suggested codes of signals. With these skills, they will be able to guide both articulated and rigid large good vehicles.
Assessment.
The tutor will assess your contribution throughout the course. You will also need to complete a multiple-choice exam at the end of the course to pass.
How long is a Traffic Management & Vehicle Banksman course?
The course is delivered over three hours of learning.
The short duration allows you to gain your qualification quickly and productively without spending long periods of time away from work.
Why should I take this course?
The course is suited to operatives who assist in moving and loading/unloading vehicles in their occupation.
Reversing and manoeuvring vehicles are very common on a construction site; they are also very dangerous, especially in confined spaces. This course will help to reduce the risk of accidents relating to large vehicles on site.
Vehicle injuries can be costly to a business; not only are you at risk of potentially fatal accidents, but you also need to be working in line with legislation when if broken can occur legal costs.
Traffic Management & Vehicle Banksman entry requirements
There are no formal entry requirements for this course.
We ask that you have a good understanding of English and that the course is relevant to your role.
In addition, we want you to get the most out of your training course.
Is this course accredited?
3B Training accredits this course.
We continually review the quality of our courses and develop them accordingly. Therefore, we want to make sure that you receive up to date information that is as relevant and helpful as possible.
Where can I take this course?
You can attend this course in the classroom.
Public Classroom Courses
Classroom-based Vehicle Banksman and Traffic Management courses are available in our training venues nationwide. We deliver the course in a traditional classroom environment with a trainer and up to 12 delegates.
We have many public dates scheduled during the year, which means delegates can book for themselves, or companies can book on behalf of their employees. In addition, public classroom courses can be booked over the phone or directly on our website.
In-house Courses
We can also organise for the Vehicle Bankman as an in-house course, especially for your company's delegates; we can arrange an in house course via remote learning at one of our venues or a venue of your choice. In-house training is a popular alternative for more prominent clients. We can provide it on-site, and delegates can socialise and talk about company-specific examples throughout the training. There must be a minimum of 4 delegates and no more than 12 delegates. We price in-house courses per enquiry; the price will vary depending on the location, delivery method, and delegates' number. To get a quote, complete the in house training enquiry form on this page, and one team will be in contact.
Further development
On completion of the training, we will issue a certificate. The certificate is valid for 6-8 weeks before it expires; you must reattend the course to renew the qualification.
On many sites, this qualification is mandatory. However, we offer other qualifications that will give you the knowledge to work safely on-site. So why not attend one of the below courses to improve your CV?
NEXT AVAILABLE COURSES
Next Available Courses
Traffic Management & Vehicle Banksman

Doncaster - 01 Nov 2021

£70 + VAT

Traffic Management & Vehicle Banksman

Manchester - 08 Nov 2021

£70 + VAT

Traffic Management & Vehicle Banksman

Wigan - 18 Nov 2021

£70 + VAT
Can't see the course date or location you are looking for?
VIEW MORE COURSES