UKATA Online Asbestos Awareness eLearning Course
UKATA Online Asbestos Awareness elearning is a course that will give you a better understanding of asbestos, where it is located, its dangers and how it affects the industry.
This course is an elearning version of the UKATA Asbestos Awareness course.
This UKATA Online Asbestos Awareness elearning course will provide you with vital knowledge but does not meet the requirements of Control of Asbestos Regulations 2012 (CAR).
UKATA accredited
Available completely online
A flexible course that you can complete in your own time
A cost-effective alternative to classroom training
Gain vital health and safety knowledge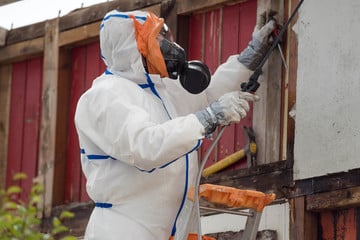 UKATA Asbestos Awareness eLearning course content
Upon completing your course booking, you will receive an email with your login details to the online portal; this is how you will access the course.
The Asbestos Awareness eLearning course has 4 modules, each covering the relevant content to pass the course successfully. UKATA delivers the course through a range of interactive exercises, videos, multiple-choice questions and a final exam.
The course modules are as followed;
The properties, risks and effects on the health of asbestos exposure. 
This unit will teach you the different types of asbestos to help you recognise them. You will also learn how exposure can affect your health and how the effects can be worse due to other factors.
General knowledge of the types, the uses and likely occurrence of asbestos and ACMs in buildings and plant. 
Here you will outline the types of asbestos, explain where it can be found and explain the main reasons asbestos was used.
Avoiding the risks from asbestos.
Describe the risks of various asbestos fibres, how you would find information about asbestos before starting work and the emergency arrangements when asbestos is disturbed.
Asbestos-related legislation.
Understand in simple terms where asbestos legislation fits the wider context of health and safety legislation. The legislation governing asbestos and work with asbestos, particularly regulations 5 and 6 of CAR. The basic framework (Regulation 4) for managing ACMs.
Assessment.
To pass the course, you will need to answer 12 of the 15 provided multiple-choice questions correctly.
How long is a UKATA Asbestos Awareness eLearning course?
Similarly to the classroom course, the training will take between 3-4 hours of learning. You can complete eLearning courses in your own time; if you wish to break up the training to fit your schedule. Alternatively, if you'd like to complete the training quickly, the course will not take up too much of your time and cuts out an extra time spent travelling to the classroom.
Why should I take this course?
The course is mandatory for those who work in a trade or occupation involving building maintenance. The construction industry requires workers on a refurbishment or construction project to have some form of asbestos training.
Not only is the course a requirement for working, but you will also gain further knowledge of asbestos and its dangers and how it affects the construction industry. Asbestos exposure is a key contributor to respiratory deaths in the construction industry and allied sectors. By understanding it, you will be able to protect yourself and others.
The eLearning format is also much more cost-effective compared to attending the course in the classroom. Not only is the course fee a fraction of the classroom price, but the extra expense is also spared from travel and any potential accommodation you may need for the training.
UKATA Asbestos Awareness eLearning entry requirements
To attend the eLearning course.
You must have access to a computer, laptop or tablet that can connect to the internet. You must also hear the sound played throughout the course; therefore, you must have access to speakers or headphones.
Is this course accredited?
UKATA accredits this course. UKATA is a nationally recognised health & safety organisation that collaborates with training providers to deliver their asbestos training.
Where can I complete this course?
eLearning Courses
This course is an eLearning course; eLearning courses are completed online without a live tutor or classroom. Because of this, you can complete the training from anywhere, anytime, and you don't need to rely on a specific course date to be available to book.
If you would like to book this course, book directly online via this page or complete our contact form for a bespoke enquiry.
This UKATA course offered for sale is sold under license from Asbestos Training Limited, the UKATA approved Professional Member UKATA NO:160AB, and this company, 3B Training, is not a UKATA Professional Member for this classification of training, UKATA Asbestos eLearning.
Public Classroom Courses
An alternative to this course would be the classroom delivered UKATA Asbestos Awareness. This course is suitable for those who work in the vicinity of asbestos but prefer to have their training delivered in a classroom.
If you would like to find out more about the classroom delivered training, visit the UKATA Asbestos Awareness course page.
Further development
UKATA will send you a registered certificate directly to your email address once you have passed the course. The certificate is valid for 12 months and must be annually renewed.
If you work in an area where you are vulnerable to asbestos, you should also have proper fitting respiratory equipment. To ensure that you have a mask that achieves a proper seal, you can attend a Face Fit Testing course with 3B Training.
NEXT AVAILABLE COURSES
Buy This Course
UKATA Asbestos Awareness eLearning

eLearning - 27 Sep 2030

£30 + VAT
Are you interested in other eLearning Courses?
VIEW MORE COURSES