UKATA Asbestos Awareness eLearning
The UKATA Asbestos Awareness eLearning training course will provide delegates with a better understanding of asbestos, its dangers and how it affects the industry.
How long is the Asbestos Awareness eLearning course?
Approx. 3 hours
Course Price:
£30 + VAT
Who should complete the Asbestos Awareness course?
The course is mandatory for those who work in a trade or occupation involving building maintenance. The construction industry requires those who are working on a refurbishment or construction project to have some form of asbestos training.
Is the Asbestos Awareness course accredited?
UKATA
When does my Asbestos Awareness certificate expire?
12 months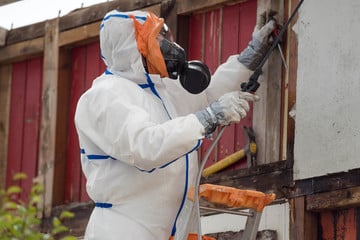 Course Objectives
The delegates will gain further knowledge of the asbestos and its dangers and how it affects the construction industry.
On completion of the course, delegates should be able to:
understand the health risks, hazards and procedures of working in the proximity of asbestos
identify where to find asbestos and in what materials
conduct the relevant emergency procedures if you ever come into contact with asbestos when you don't expect to
know how to avoid disturbing asbestos.
Course Content of the UKATA Asbestos Awareness eLearning
The Asbestos Awareness eLearning course has 4 modules, each covering the relevant content to successfully pass the course. Highfield delivers the course through a range of interactive exercises, videos, multiple-choice questions and a final exam.
On completion of your course booking, you will receive an email with your login details to the online portal. UKATA will send you a registered certificate directly to your email address once you have passed the course.
The course modules are as followed:
Properties and Risk
Location of Asbestos Containing Materials
How to Avoid Asbestos
Legislation
Further Development
An alternative to this course would be the classroom delivered UKATA Asbestos Awareness. This course is suitable for who work in the vicinity of asbestos but prefer to have their training delivered in a classroom.
This UKATA course that we are offering for sale is sold under license from Asbestos Training Limited who is the UKATA approved Professional Member UKATA NO:160AB, and this company 3B Training are not a UKATA Professional Member for this classification of training, UKATA Asbestos eLearning.
NEXT AVAILABLE COURSES
Next Available Courses
eLearning - Approx 3 hours

£30.00 + VAT