UKATA Asbestos Awareness Course
UKATA Asbestos Awareness training course will give you a greater understanding of the dangers of asbestos and how it affects the industry. This course does not train you on working with asbestos; it will give you knowledge of the legislation around, how to recognise asbestos and what to do if you do. With this knowledge, you'll be able to protect yourself and others from the health repercussions that come with disturbing asbestos.
UKATA accredited.
Become qualified in just three hours.
Learn how to work safely around asbestos.
Meet the requirements of (PUWER 98).
We deliver this course in the classroom.
We can deliver this course in-house.
CITB Grant Claimable.
Valid for three years.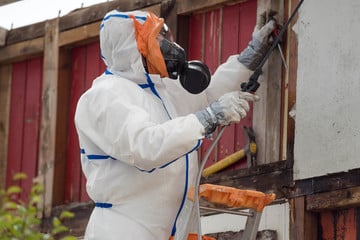 UKATA Asbestos Awareness course content
Asbestos Awareness is relevant training for operatives to work within the Control of Asbestos Regulations 2012 (CAR). The tutor delivers the course in a classroom format through solo and group practical activities. You will learn about the below key subjects throughout the course.
An overview of the properties in which asbestos would be present
The different types of asbestos
The risks of asbestos exposure and its effect on your health
How, why, where and when asbestos we used asbestos
The regulations surrounding asbestos
Course Objectives
On completion of the course, you should be able to understand:
The materials that contain asbestos
Where to find asbestos
The health risks, hazards and procedures in the event of working in proximity to asbestos
How to refrain from disturbing asbestos
How to conduct the emergency procedures required if you come into unforeseen contact with asbestos
What is required to pass the UKATA Asbestos Awareness Course?
You will need to take a multiple-choice test to pass this course successfully.
How long is the Asbestos Awareness course?
The course is delivered over three hours of classroom learning.
Many construction sites see this course as a mandatory qualification to have before entering. In addition, the short duration will allow you to qualify in just half a day.
Why should I take this course?
The course is obligatory for those who work in building maintenance, e.g. plumbers, electricians. In addition, by law, construction companies must provide anyone employed to work on any construction or refurbishment project with Asbestos Awareness training.
Asbestos can be hazardous to your long term health if disturbed; asbestos-related diseases are one of the biggest killers in the country.  You must know how to recognise it so that you can avoid it and report it. So attending the training could save your life.
Considering how necessary the training is, the training isn't expensive and doesn't take a lot of time. So the cost vs risk factor is a no brainer.
Is the Asbestos Awareness course accredited?
This course is UKATA approved.
UKATA is a nationally recognised certification for asbestos-related training. By holding a UKTA qualification, construction sites will know that you have received proper quality training, making you more employable.
Where can I take this course?
You can complete this course in the classroom or via eLearning.
Public Classroom Courses
Classroom-based Asbestos Awareness training is available across the country in our training venues. The course is delivered in a traditional classroom environment by a UKATA accredited tutor.
You can book one or more places on a public course easily online via our website. You can also book a course over the phone or through the enquiry form on this page.
In-house Courses
We can also arrange for the UKATA Asbestos Awareness course to be delivered specifically to your company in-house. We can tailor the course content to suit your organisation, including company-specific examples that can help to generate discussion between your employees. We can hold the course at one of our centres or deliver at a site of your choice. To enquire, fill out the enquiry form on this page, and we will be in touch to discuss further. The quote we give you may differ depending on delegate numbers, location and how much you'd like us to tailor the training.
eLearning Courses
You can also book the UKATA Asbestos Awareness eLearning course. For more information, take a look at the course page here.
This UKATA course offered for sale is sold under license from Asbestos Training Limited, the UKATA approved Professional Member UKATA NO:160AB, and this company, 3B Training, is not a UKATA Professional Member for this classification of training, UKATA Asbestos eLearning.
Further development
Around 6-8 weeks after completion of the course, you will receive a UKATA certified certificate. The certificate is valid for 12 months and must be renewed by completing the course again.
A course that ties in really well with Asbestos Awareness is the Face Fit Testing course. By completing a Face Fit Test, you will have RPE with a proper seal that can help protect you from breathing in harmful components, such as asbestos particles.
Is this course CITB Grant claimable?
You can claim £30 as long as you provide us with your CITB Levy number either at the time of booking or on the day of the course.
NEXT AVAILABLE COURSES
Next Available Courses
UKATA Asbestos Awareness

Liverpool - 08 Nov 2021

£78 + VAT

UKATA Asbestos Awareness

Manchester - 09 Nov 2021

£78 + VAT

UKATA Asbestos Awareness

Manchester - 08 Dec 2021

£78 + VAT

UKATA Asbestos Awareness

Wigan - 16 Dec 2021

£78 + VAT

UKATA Asbestos Awareness

Doncaster - 01 Sep 2022

£78 + VAT
Can't see the course date or location you are looking for?
VIEW MORE COURSES