What is eLearning?
eLearning is a learning format that utilises various technologies that allow learners to complete courses outside of a traditional classroom. Most electronic learning courses are some form of course or qualification delivered entirely online.
How do eLearning courses work?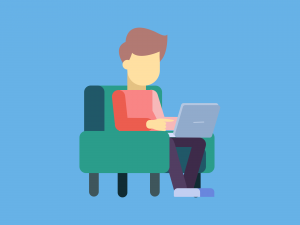 eLearning courses are available via an online portal that the learner can access via any device with a screen. The learner will receive licenses for each course they need to complete and login to attend.
The courses contain a range of interactive scenarios, activities and knowledge questions, all designed to increase the learner's knowledge. Each course includes broken-down bite-sized units. The learner must go through each of them and then complete a final exam at the end to test their understanding. On completion, they will receive a downloadable version of the certificate.
How is eLearning used?
Companies and individuals use eLearning as an easily accessible and flexible alternative to classroom training. Many people use it to gain mandatory qualifications quickly and easily, quite often in the workplace, during work time.
Why is eLearning so popular today?
During the COVID-19 pandemic, online learning became the only option for most people to complete their training. The format increased in popularity as businesses saw its flexibility, cost-effectiveness and benefits to learners.
Take a look at some more benefits of eLearning here.
What is online learning?
Unlike eLearning, online learning involves a lot more human interaction. Learners attend online learning or Remote Learning courses live over some form of video conferencing software via a virtual classroom. Online learning courses imitate a traditional classroom format, whereas eLearning companies, e.g. Highfield, deliver their courses directly from the software.
What is mLearning?
This point may appear contradictory, but mLearning is different. mLearning or mobile learning is a learning format explicitly designed for the learner's device. Thus, learners can access the training in their own time and when it is convenient for them.
Back to News
View Our Courses