CSCS Cards: How To Apply For a CSCS Green Card
CSCS Green Card: As of 1st July 2014, a new law was introduced by CSCS; a replacement for the Construction Site Operative card was issued for those who work in labouring job roles.
The new CSCS green card is a compulsory card to be allowed on site. Which therefore provides proof that a site worker is competent with basic health and safety.
If you wish to apply for a green labourer's card with 3B Training you need to follow three steps:
(Please note the first two steps can be completed in any order but it is advised that those who don't have a broad knowledge of health and safety complete step one first as a revision session for step two).
Step 1: Classroom-Based Course
No matter what level of experience you have, or how many qualifications you have gained, if you wish to apply for or renew a CSCS green card you must complete a CITB Health & Safety Awareness or British Safety Council H&S in Construction course. By completing the one day course, you will gain a basic knowledge of health and safety on site which is especially beneficial for those who are new to the industry.
Both the British Safety Council and Site Safety Plus CITB courses are available twice a month in all 3B Training venues. To find out more about the course and to view our course dates click here.
An alternative to the one-day CITB course
is the IOSH Working Safely. IOSH is also a highly credible health and safety membership scheme. The difference with IOSH is that the course is aimed at a much broader audience and is relevant to people from any sector rather than just construction and the built environment.
To find out more about the IOSH Working Safely course click here. If you would like to book an IOSH course for one or more people please call our Head Office on 01942 597 333 or email [email protected].
Step 2: The Health & Safety Environment Test
The Health and Safety Environment Test is available at any Pearson Vue centre across the country. If you need help finding the one closest to you just ask us. The test is used to examine the delegate across a range of topics. It is designed to increase production and safety on site. The test is usually available as a computer-based touch screen test but alternative options are available for certain exemptions.
Once you have passed this test and gained the relevant construction related qualification; you can, therefore, go ahead and apply for your card.
Step 3: Applying for your card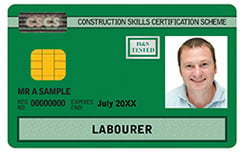 Once you have passed all the above tests, you will need to check that 3B Training has processed your course return. Once this has been confirmed then you will have to call the CSCS Contact Centre on 0344 994 4777.
Which CSCS Card Should I Apply For?
Take a look at the different types of CSCS card that are available to workers and which one is right for you here.
Back to News
View Our Courses