What is NRSWA?
We're excited to announce that we are now delivering New Roads and Street Works Act (NRSWA) training courses accredited by CABWI at our new venue in Leigh!
The CABWI accredited NRSWA courses educate supervisors and operatives with the skills they need to carry out street works safely.
Read more to learn about the basics of the New Roads and Street Works Act and NRSWA qualifications and renewals.
What is NRSWA?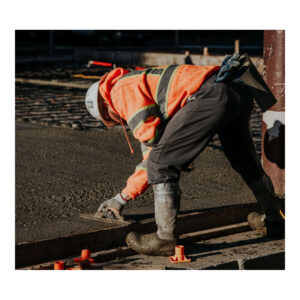 NRSWA stands for the New Roads and Street Works Act.
This legislation is approved by the UK to ensure safety, efficiency and minimal disruption during work on public highways.
It establishes standards and procedures for excavation, reinstatement and other activities on or near roads.
It's compulsory to adhere to the NRSWA guidelines. Understanding the legislation will help you to carry out street works operations safely, following best practices.
What does CABWI stand for?
CABWI stands for the Certification and Assessment Board for the Water Industry.
They are one of the leading awarding organisations for the Street Works and Street Works Reassessment schemes in the excavation and reinstatement of the highway.
How to get a NRSWA qualification?
To obtain a NRSWA qualification you need to complete a NRSWA training course. These courses cover a variety of aspects of street works.
We offer the following NRSWA training courses:
These courses are made up of a variety of units. The main aspects covered are:
Location and Avoidance
Signing, lighting and guarding
Excavation
Reinstatement
Once you successfully complete the course, you will gain your certification or a street works ticket as evidence.
How long does an NRSWA card last?
You might notice an expiration date on your NRSWA card.
The NRSWA card is typically valid for five years and as the expiration date is approaching, you need to renew your card to make sure it's compliant with recent regulations.
It's important to bear in mind that if there is more than one unit on your card, these units could expire on different dates.
How do I renew my NRSWA card?
You can renew your NRSWA card by completing a NRSWA Refresher training course.
The NRSWA Refresher course will update your knowledge of the latest regulations and best practices to keep you up to date with industry standards.
It is also recommended to complete this around six months before the expiry date and no later than three months after the expiry date.
Successfully completing the refresher course gives you the green light to apply for card renewal through trusted accredited organisations or authorities.
How to check NRSWA card?
The Street Works Qualification Register (SWQR) issues all street works cards. Whereas different awarding bodies issue certificates.
How to check my qualification online?
To check your street works qualification online, you can visit the SWQR website.
SWQR have their very own online verification system making it easy to check your qualification.
To check this they will require certain details. This includes your name and qualification number, so it's good to have this at hand.
This allows you to obtain real-time data about your qualification and confirmation of whether it's valid.
What is a NRSWA ticket?
NRSWA ticket is another way of saying NRSWA card.
A NRSWA ticket, also known as a street works ticket, proves that you have successfully completed specific units of the NRSWA courses.
The ticket shows your area of competency and that you are capable to carry out street works correctly.
What is SWQR?
SWQR stands for Street Works Qualifications Register.
SWQR is a government-authorised centralised database that stores records of street work qualifications and certifications in the UK.
It acts as a qualification checker and provides a reliable platform to check the validity and status of qualifications.
Some of their roles and responsibilities include:
Quality assurance of the validity of candidate claims against Awarding Organisation results.
Supporting candidates to register, renew or update their SWQR ID card.
Guiding Awarding Organisations and Centres who wish to gain approval to offer qualifications.
Maintaining close links with Centres, Awarding Organisations and industry representatives.
Working with authorities to carry out on-site inspections to ensure Candidates are on the SWQR, hold a valid ID card and have appropriate qualifications.
What is a SWQR card?
Under the New Roads and Street Work Act 1991 (NRSWA) candidates with a certificate from an awarding organisation can be issued with a SWQR card.
When working in the street works industry, it is fundamental to know about NRSWA and associated qualifications.
Keeping up to date with industry standards and getting the correct training will help you comply with the law and perform your role to your full potential.
Stay informed, stay qualified and make a positive impact on the industry.
Back to News
View Our Courses