Emergency First Aid
First Aid Courses – Emergency First Aid at Work 
Overview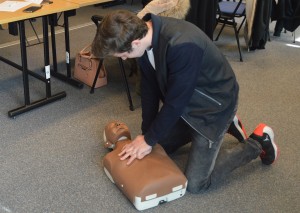 Emergency First Aid is providing immediate action to a victim with an illness or injury until a medical professional is present. This one day course is tailored for anyone wanting to become an accredited first aider or appointed person in an environment with low risks or in a workplace in which a first aider needs to be appointed. The course will only provide a basic knowledge of first aid.
Course Content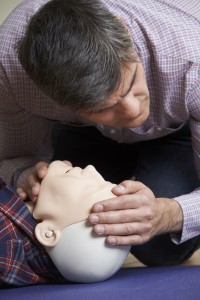 This one day course covers areas such as:
The day to day role of a first aider.
How to communicate with a casualty.
Communicating with an unconscious casualty.
What a first aid kit needs.
How to avoid cross infection.
Recording an incident.
How to apply CPR.
How to deal with minor cut, grazes, burns etc.
Dealing with blood loss.
Attending a casualty dealing with shock.
How to treat a choking casualty.
The course is delivered through a variety of cases studies and group discussions. You will also partake in a practical element to the course after tutorials from the tutor.
Suitable Delegates
Suitable for people 18 years and over.
Further Development
In completion of the training the course delegate should be have greater knowledge of first aid. They should know how to record and report accidents of occupational injuries. They will be able to confidently administer basis life support and know the recovery position.
The delegate should look to attend the First Aid at Work (3 day course). This course is designed for those who work in a high risk environment. The three day course covers first aid in greater detail than the one day course.
The Emergency First Aid qualification is valid for 3 years and can be renewed on the First Aid Requalification course.
To find out the benefits of becoming a first aider take a look at our informative blog here.
The Emergency First Aid course is available in Manchester, Sheffield,  Derby, Hull, Watford, Leeds, Liverpool and Bolton.
Find a Course
Location: Watford
Date: 3 May 2017
Location: Liverpool
Date: 8 May 2017
Location: Wigan
Date: 17 May 2017
Location: Manchester
Date: 24 May 2017
£75.00 + VAT
£67.50 + VAT