3B Training Once Again Shortlisted for E3 Business Awards
Nationwide health and safety training provider, 3B Training has been shortlisted in the E3 Business Awards 2017 as a finalist.
The awards will be held in Bolton at the Macron Stadium on 13th July 2017.
3B Training was picked from a list of hundreds of nominees as a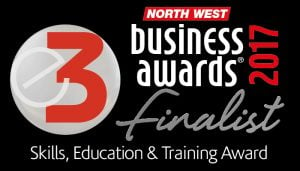 finalist for the Skills, Education & Training Award category. Being nominated for the award is proven evidence of how 3B invest in their employees' development at all levels of the company in order to become a more successful business.
The next step for 3B will be the interview stage. The interview stage involves each nominee explaining the reasons why they should win the award; this will take place in front of a Judging Panel. Director, Mathew Bewley and Marketing and Operations Manager, Rachael Patan will be attending the interviews on Tuesday 16th May.
Following the interviews; the representatives for each nominee will be filmed for a 40-second video. The video will be used as promotional material for the event. Then they will then take part in a photo shoot which will be used for the award's magazine and will be presented with a certificate of recognition of the nomination.
3B was nominated for the same award last year and hope to go one step further this year.
More information about the E3 Business Awards, including a full list of finalists, can also be found at www.e3businessawards.co.uk.
3B Training Shortlisted For 2016 E3 Business Award
Find out more about our 2016 application here.
Back to News
View Our Courses