Construction Industry Comeback
The annual Construction Skills Network Report, released on 28th January suggests that between now and 2019.
The construction sector could grow back by 2.5%. This means that 25,000 jobs could be created in the North West alone. However, experts from the industry believe that this boom could be hampered by a skills gap.
This increase in industry demand will generate around 4780 new jobs per year. It will also help fuel the so-called 'northern economic powerhouse'.
The North West region's construction is predicted to be mainly driven by the leisure and commercial sectors. With steady growth in public housing over the forecast period.
A partnership bet

ween Manchester Council and The Abu Dhabi United Group is one of the main projects helping to drive the growth in Manchester. They plan to build 6000 houses in the next ten years.
As well as this headline project; the strength of the housing sector and the planned work on the Carrington Power Station. This will require a significant number of skilled workers each year in Manchester.
With the increase of demand for work in the construction sector being so rapid; as a result, there are fears that its recovery may be hindered by a widening skills gap. The CITB is now urging tradespeople, who left the industry in the recession, to now return and take advantage of the new opportunities over the coming years, across the region.
Steve Housden, sector strategy manager for the North West, said: "This report is terrific news for the region and shows the construction industry is making a strong comeback."
"Worryingly, though, construction is facing a skills gap, with projects potentially held back due to a lack of skilled workers. That's why CITB is working with industry to attract the next generation of workers and encourage skilled tradespeople who left the industry during the recession to return. "
"This positive forecast shows that now is the right time to start, or return, to a rewarding career in construction."
It is believed that 14,850 extra construction workers will be needed around the North West over the next five years. The expected number of workers split between trades are shown below.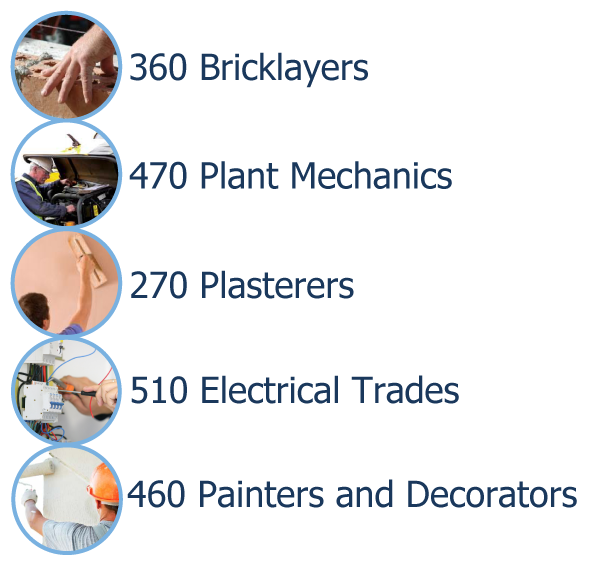 To raise the status of working in construction, CITB are also calling for continued commitment to deliver the National Infrastructure Plan and better careers advice. They are hoping these measures will also help attract the next generation of workers into the industry.
Nationally it is said that more than 224,000 jobs will be created by 2019 as the sector expands and the UK's private housing sector will continue to grow at a rate of 4.6%.
For more blogs and updates  visit our website 
Back to News
View Our Courses