Get your card ready for the CSCS skills card audit
Across the UK construction workers will need to be prepared to show a valid and up to date CSCS skills card.
As of Wednesday 8th February members of Civil Engineering Contractors Association and Build UK have been told to assist in a nationwide CSCS skills card audit across the construction industry.
All CSCS cards will need to be up to date and be a CSCS SmartCard. The purpose of the audit is to crack down on fraudulent or out of date cards and to also make sure that the industry has fully competent workers.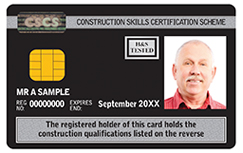 The SmartCard technology will allow you to ensure that your workforce is fully qualified and have attended the relevant training courses to go with their current card. The technology also cuts out the time it takes to check workers qualifications individually. This will help you to also pick out any fraudulent or expired cards on your system.
If you have any queries on what qualifications you need to obtain a specific card contact the 3B training team here.
Which CSCS Do I Need?
For more information take a look at our blog on which CSCS do I need?
Back to News
View Our Courses