3B Training Shortlisted For 2016 E3 Business Award
Wigan-based training company; 3B Training has been shortlisted as a finalist in the 2016 E3 Business Awards. The awards will be held in Bolton at the Macron Stadium on Friday 3rd June.
The E3 Business Awards have been running for three years now and have become a highly recognised award. The awards look to give recognition to companies in the North West who are excelling in their field.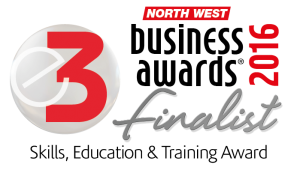 3B Training, which delivers a range of health and safety courses nationwide, was selected as a shortlist in the Skills, Education & Training Award category. The awards attract high volumes of nominations so to be shortlisted is a great achievement for 3B Training Ltd.
The Skills, Education & Training Award is an award aimed at a company who demonstrates an excellent approach the developing their workforce. Not only must the company show commitment but must conduct itself effectively.
Sales Director, Mathew Bewley said: "Because we are such a young business, it is great to hear that we are being recognised for our commitment to developing training. The majority of the team started here with little or no experience in health & safety training, but they all have come such a long way since joining our company and I am so proud of them all.
"We work hard to make sure our company is growing and the only way to do that is to make sure our staff members grow with it. For 3B to have been nominated as a finalist for the 2016 awards is a huge achievement and it shows all of our hard work is paying off."
The next step will be a 15 minutes interview in front of a judging panel. They will then have to produce a promotional video and take part in a photo shoot before the awards ceremony. The Awards Dinner will be taking place on Friday 3rd June at Bolton's Macron Stadium (6.00pm-10.30pm) when the winners will be announced.
More information about the services 3B Training provide visit the About Us page
3B Training Shortlisted for Skills for Business Award
Find out more about a previous award nomination 3B Training had here.
Back to News
View Our Courses