Bromak staff complete Face Fit Training
3B Training delivers Face Fit Training nationwide.
Respiratory protective equipment and Face Fit training are currently a hot topic throughout the construction industry. With this in mind, 3B Training has selected several members of staff to become competent Face Fit Testers.
On the 14th of November 2013, nine of our staff members were trained by 3M.
Face Fit Testing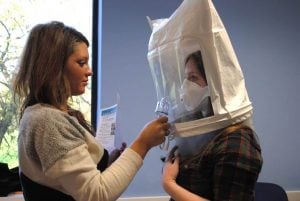 It is now a legal requirement to wear suitable RPE on site when conducting work which may cause you or nearby workers to breathe in substances under the COSHH, CLAW & CAR regulations. Our staff successfully completed the training and Bromak are now offering Face Fit Testing to the majority of our subcontract staff as well as extending the service out to any company or individual working in a profession or sector which now requires them by law to wear a Face Fit tested mask.
If you would like to know costs or have any queries about face fit testing click here.
Face Fit Testing Open Days
If you need Face Fit Testing as soon as possible, drop into one of our Face Fit Open Day sessions. Take a look at our upcoming slots here.
Face Fit Train the Testing Workshop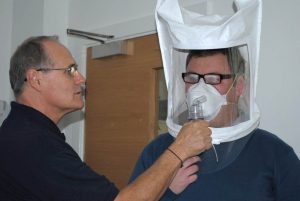 Are you 100% sure that the respiratory masks that your workers use fit them correctly? If they fit poorly your employees may be in danger. An employee needs to have his/her RPE tested by a responsible person: 3B Training delivers a course that can make you that person.
3B Training delivers a Face Fit Tester course- during the workshop, a Fit2Fit qualified trainer will give the delegates an understanding of how to administer face fit training personally and learn about on the various types of masks available.
To book onto Face Fit Testing Workshop click here.
Back to News
View Our Courses