How Does Loneliness Affect Mental Health?
Mental Health Awareness Week is running from Monday 9th May until Sunday 15th May 2022. The theme for this awareness week is the experience of loneliness, its effect on mental health, and how everyone can play a part in reducing loneliness throughout our communities.
Is loneliness a mental health issue?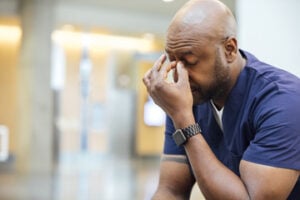 Experiencing loneliness isn't a specific mental health condition,  however, is it recognised that when loneliness is severe or lasts a long time, it can have a negative effect on our mental health.
For example, social anxiety disorder is a mental health issue associated with loneliness and feeling lonely. If you experience this, you may lack meaningful social contact, resulting in feeling lonely.
Take a look at some of the signs of loneliness here.
How does loneliness affect mental health?
If you have been experiencing feelings of loneliness for a long time, it could have a negative impact on your mental health.
Research suggests that loneliness can be associated with an increased risk of mental health problems, such as anxiety, depression, increased stress, sleep problems, and low self-esteem.
For example, if you have been feeling lonely, it may have damaged your mental health. Then, your mental health may have made you lonely, and it can become a vicious circle.
Who experiences loneliness? 
Although anyone can experience loneliness, the Mental Health Foundation has found that certain risk factors can increase our chances of severe and lasting loneliness which can affect our mental health. These include…
Being widowed
Being single
Being unemployed
Living alone
Having a long-term health condition or disability
Living in rented accommodation
Being aged between 16 – 24 years old
Being a carer
Being from an ethnic minority community
Being LGBTQ+
How do I tell my friends or family that I'm lonely?
You may feel there is a stigma around loneliness which makes it hard to talk about it to your friends or family without feeling like a burden or feeling like they are going to judge you, and surrounding yourself with people isn't going to make you feel less lonely either. What will help reduce your feeling of loneliness is making meaningful connections with others.
Meet up with a friend for a coffee, get out and about for a walk with a family member or book an event in your diary to give you something to look forward to. These small steps can help you get in the direction of combating loneliness.
What are the physical effects of loneliness?
People don't often think about the physical effects of loneliness. Yet, loneliness could be one of the largest health concerns that we face today.
Take a look at the physical effects of loneliness, the causes of loneliness, and ways to combat it here.
Loneliness can be a key factor in the mental health of construction workers. There are support organisations that can help, such as Mates in Mind and Building Mental Health.
Back to News
View Our Courses