Meet The Trainer – Danny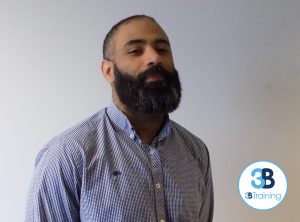 Meet Danny, our Senior Trainer, IQA & NVQ Assessor.
Please take a look at our Q&A with him below…
What is the best thing about being part of the 3B team?
I've worked for a few training providers in my time, but I believe from my own experience that the staff and the company here at 3B are the best in what they do, and I appreciate being part of the team.
Why did you choose to become a trainer?
I think being a trainer offers such a great work-life balance, and I'm never stuck in the same place of work.
What do you deliver at 3B Training?
I deliver a wide range of NVQs from Levels 2 to 7, around six categories of NPORS plant training and bespoke in-house training.
I also deliver online training and classroom courses, CITB SSP courses and carry our quality monitoring on the freelance NVQ assessors through the IQA role.
What do you enjoy most about your job and why?
I enjoy the range of qualifications that the company and I deliver. I can find myself providing courses on a new football stadium on a Monday and then delivering in a nuclear submarine base on a Tuesday.
What does a typical day at 3B look like for you?
My typical day can be extremely varied from week to week, mainly due to the pandemic. Most of my learning and teaching is through the online classroom, but I still carry out NVQ observations in the workplace as long as they're COVID secure.
If you could introduce a new training course, what would it be?
Personally, I would enjoy a close protection course with advanced driving, unarmed combat, live firearms training, surveillance and casualty evacuation. That's the sort of training course I would like to attend.
What do you enjoy doing when you're not working?
Mainly sports, I coach both my son's football teams in my spare time, which takes a lot of spare time in the week, but my passion is boxing. I've had around 40 boxing fights in my life; although I'm getting a bit old now, I still like to hit the heavy bag from time to time.
What is a fun fact about yourself?
I've appeared on Sky Sports.
Meet The Trainer – Darren
Please take a look at our Q&A with Darren, the face of our Durham venue, here.
Back to News
View Our Courses