Meet The Trainer – Chris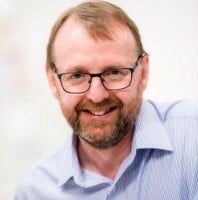 Meet Chris! Please take a look at our Q&A with Chris here…
What is the best thing about being part of the 3B team?
Being part of a team that gets on with what needs to be done, no agenda's or "it's not my job" or blame culture.
Why did you choose to become a trainer?
Having seen and investigated some really bad accidents and incidents, I wanted to be part of preventing them from happening again and, I've been in some really poor training courses in the past where people got such bad value for money so I thought I couldn't do any worse.
What do you deliver at 3B Training? 
Remote learning, SSP, IOSH, NEBOSH various short courses and (pre-COVID) first aid.
What do you enjoy most about your job and why?
The delegates. So many different backgrounds, skills and levels of knowledge. Every group is so different, each with a different dynamic. And the builder's humour (possibly not to everyone's taste).
What does a typical day at 3B look like for you?
Getting all the delegates logged in and sorting out the inevitable IT issues. Explaining that I can't do anything about their broadband or fix connection issues.
Then a good round of introductions to find out what the delegates do helps to tailor the course to them and gets them talking.
Delivering the course, mixing in as many different styles as possible.
If you could introduce a new training course, what would it be?
Health & Safety for Commercial & Finacial Managers and QS's showing how good Health, Safety and Environmental performance is profitable.
What do you enjoy doing when you're not working?
Spending time with my daughter when she's home from university and currently searching for a rescue dog(s).
What is a fun fact about yourself?
I have never held a passport nor been on a plane. The only time I've been out of the UK was a school day trip to Boulogne when I was 13.
Meet The Trainer – Danny 
Please take a look at our Q&A with our tutor Danny here.
Back to News
View Our Courses