Men's Health Week 2021
This week is Men's Health Week (14 – 21 June). The focus this year is 'how can we move forward?'. The lockdowns and uncertainty from the past year have challenged everybody's mental health.
The Men's Health Forum asks everyone to choose a different way to improve well-being each day of the week. Then, at the end of the week, select your favourites and do them again.
Take a look below at the "CAN DO" approach to mental wellbeing…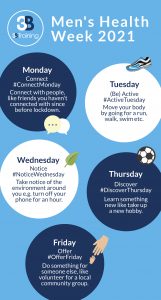 Connect Monday
Connect with people, like friends you haven't connected with since before lockdown. However, make sure to follow the most recent government guidelines.
Active Tuesday
Exercise plays a big part in reducing stress and anxiety. Therefore, it is essential to move your body by running, walking, swimming, or other activities.
Notice Wednesday
Sometimes we are guilty of not taking notice of the nature around us. There are many ways to connect with nature, such as visiting natural places, bringing nature to you, exercising in nature and protecting wildlife.
Take a look a how nature and the environment can improve your mental health here.
Discover Thursday 
Trying and learning something new is vital to your well-being, especially over the past year where you may have been feeling in a rut. So, why not try taking up a new hobby?
Offer Friday
Do something for someone else, like volunteering for a local community group or doing something for charity.
Men's Health Week 2019: Men's Health By Numbers
In 2019, the focus for Men's Health Week was Men's Health By Numbers. Take a look at the seven critical numbers for Men's Health here.
Back to News
View Our Courses