Mental Health Awareness Week 2021: Why Nature?
Mental Health Awareness Week is taking place from 10th – 16th May 2021. The theme this year is nature, but why?…
The past year has been challenging for most, and during the pandemic, walking seemed to be one of our top coping strategies. In addition, 45% of us reported that green spaces greatly impacted our mental health. So not only were we spending more time in nature, but we were also noticing it more.
Many of us aren't accessing nature. For example, around 13% of UK households don't even have access to a garden?!
What are the goals for Mental Health Awareness Week?
This year's first goal is to inspire people to connect with nature in a new way to make them notice the impact that this can have on their mental health.
The second goal is to convince decision-makers that access to nature and the quality of nature is a mental health and social justice issue, not just an environmental one.
What can you do this Mental Health Awareness Week?
The Mental Health Foundation is asking you to do three things this Mental Health Awareness Week.
First, experience nature, share nature and talk about nature. Then, use the hashtag #ConnectWithNature and share what it means to you.
How to connect with nature to improve your mental health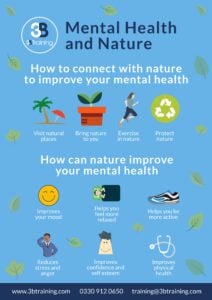 Try to spend more time in natural places like green and blue spaces. Whether you visit a park or the beach, each can help reduce the risk of mental health problems and lift your mood.
Bring nature to you. It's not always easy to access or have the time to visit natural places as often as you'd like. You could start by having plants in your home, or if you have a garden, make the most of it by growing flowers, vegetables or plants.
Exercise in nature. If you're physically able, try to exercise outside. Outdoor activity can help to prevent or reduce feelings of sadness, tiredness, and anger.
Protect nature. There are various ways to protect wildlife, like recycling, joining clean-up groups or walking instead of driving. Taking care of nature can help you feel like you're doing your part, which can help you feel more optimistic.
Mental Health Awareness in the Workplace
A large part of tackling mental health issues is raising awareness. Our director, Mathew Bewley, spoke out about mental health awareness and shared some advice on how to support those affected in the workplace.
Please look at how the interview went here or watch the interview videos on our YouTube channel.
Back to News
View Our Courses