Meet The Trainer – Darren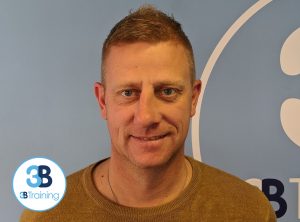 Meet Darren, one of the 3B Training tutors.
Please take a look at our Q&A with him here…
What is the best thing about being part of the 3B team?
All of the staff are friendly, responsive to any issues that occur and very supportive of each other. I love the way I am managed by senior staff and love the fact my thoughts are considered.
Why did you choose to become a trainer?
I have always had an interest in sports coaching and helping others achieve great things. So, I thought it was a natural progression for my working life and career and what a great choice it has been!
What do you deliver at 3B Training?
I deliver all CITB health and safety courses along with bespoke/in-house short courses, and I am now looking to become an assessor.
What do you enjoy most about your job and why?
I like the interaction with different people, learning every day myself and watching others achieve or progress with my help. It's a very rewarding feeling.
What does a typical day at 3B look like for you?
This is a tough one. In the present climate, it's 3 steps to the office from bed, switch Zoom on, then realise I need to brush my hair before I admit anyone on the call, haha!
A typical day for me is getting up and being better than I was the day before.
If you could introduce a new training course, what would it be?
I would honestly love to take health and safety to the sporting sector, and with the people I know, I think it's something that could be achievable.
What do you enjoy doing when you're not working?
I want to be the best father I can be for my kids. I play and follow most sport but above all else, party and enjoy life!
What is a fun fact about yourself?
I hit the legendary cricketer Shane Warne for 23 in one over and 19 of his next over in 1991 on my way to 90 not out! When I could see and could play a bit, haha!
Back to News
View Our Courses