What is Face Fit Testing?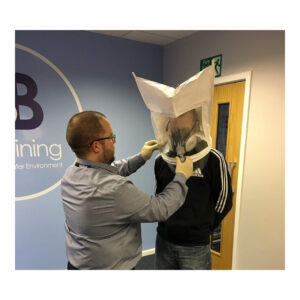 Face Fit Testing is a method of ensuring that Respiratory Protective Equipment (RPE) such as a facepiece or mask is tight-fitting and seals adequately.
The user's skin needs to be in continual touch with the seal of the tight-fitting facepiece. This is to ensure the equipment will be efficient and protect the wearer.
What happens in a Test?
We conduct Qualitative Tests to make sure your RPE is fit for purpose, these tests are a pass or fail. The test procedure follows these steps:
The tester conducts a 'taste test'
The delegate will put on their chosen RPE
The delegates wears a hood
The tester introduces a solution
The delegate will complete some short exercises
If, on completion the delegate can't taste the solution, they will be asked to move the RPE away from their face to make sure they can taste the solution once the seal is broken
What does a Face Fit Testing Kit contain?
The kit includes:
'A' and 'B' solution. 'A' solution is for testing sensitivity without your RPE gear.  'B' Solution is for testing sensitivity whilst wearing your RPE
Two nebulisers, one for 'A' Solution and one for 'B' Solution
A hood
Instruction manual on how to follow the kit guide
How do I become a competent person to conduct RPE tests?
Do you need to learn how to Face Fit test your employees or co-workers?
We have Fit2Fit accredited instructors who deliver Face Fit Train the Tester Workshops. Gaining this qualification will provide you with the knowledge and skills to be able to safeguard the health of your workers.
Throughout the course, you will learn about:
Types of RPE and correct selection
Why testing matters
Conducting a test
The variety of hazardous substances and what their impacts to health are
Health & safety law
Where can I take a Face Fit Tests or Workshops?
We conduct Tests and deliver Workshops.
Testing is available either at a venue of your choice, or at a 3B Training venue where we have staff based.
If you wear a tight fitting mask, the law requires you to attend a test. It's also important to have regular tests to ensure your are maintaining your protection from inhaling hazardous materials.
Workshops are for those whose role involves testing employees on site. So, rather than paying for your employees to attend tests, the delegate who attends a workshop can provide the test internally themselves.
We deliver this course in the classroom, either as public or in-house training.
View upcoming Face Fit Train the Tester dates, book online or enquire.
Back to News
View Our Courses