What is a Temporary Works Course?
3B Training is a CITB Accredited training provider, allowing us to deliver both the Temporary Works Coordinator and Temporary Works Supervisor courses.
What is Temporary Works in Construction?
Temporary works are used to support or protect either a structure, an item of plant or equipment, the sides of an excavation or to provide access.
Structural support temporary works include:
Shoring for excavations
Propping for walls and floors
Falsework for above ground concrete pours
Scaffolds for access
Haul roads and working platforms for plant including cranes
Permanent works used for temporary purposes during construction
Construction site temporary works also include:
Site fencing and hoarding
Welfare and office units
Earthworks, including stockpiles
What is a Temporary Works Coordinator?
The Temporary Works Coordinator's role is to manage all types of temporary works. They will delegate and organise tasks to align with the temporary works schedule.
Coordinators are responsible for making sure the works are designed properly and are safe and involves regularly liaison with the Temporary Works Designer.
What does a Temporary Works Coordinator do?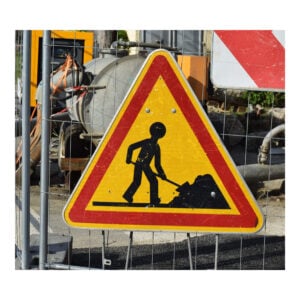 If you are a Temporary Works Coordinator, your role will include tasks such as:
Making sure a temporary works design is prepared, checked and implemented in line with the specification and drawings
Making sure all work is being completed safely and efficiently. This can include stopping work if it is not satisfactory.
Independent checking of the temporary works design.
Completion and maintenance of a temporary works register
What is a Temporary Works Supervisor? 
The daily operations of the temporary works on site are under the supervision of Temporary Works Supervisors.
The Supervisor will make sure that any temporary construction being used is secure, suitable for the task at hand, and that workers are safe around machinery.
What does a Temporary Works Supervisor do?
As a Temporary Works Supervisor, your day to day role will include jobs such as:
Supervising material deliveries
Day-to-day supervision of the workers onsite
Regularly checking the site
Erecting works according to design
Completing the Temporary Works Supervisor course will provide you with the relevant training necessary to do this role.
Which course should I attend?
You should attend Temporary Works Coordinator training if your role gives you responsibility for managing all forms of temporary works.
If your role is to support the Coordinator in managing the temporary works on site, then the Temporary Works Supervisor training is suitable for you.
If you have completed the Temporary Works Coordinator course in the last 5 years and need to renew your certificate, you can do so by completing our Temporary Works Coordinator Refresher course, as long as your certificate is still in date. We deliver the course over one day of training. It's available as a public course online or we can also deliver it in-house.
Where can I complete the temporary works courses?
Both the Temporary Works Supervisor and Coordinator courses can be taken online via Zoom or in-house via classroom, remote learning, or at your location.
You can book for the online courses here:
If you with to enquire about in-house training please click here to make an enquiry.
Back to News
View Our Courses