NEBOSH Certificate: Frequently Asked Questions
3B Training is a NEBOSH Gold Learning Partner that delivers NEBOSH Certificate courses.
What does NEBOSH stand for? 
National Examination Board in Occupational Safety and Health.
What is NEBOSH?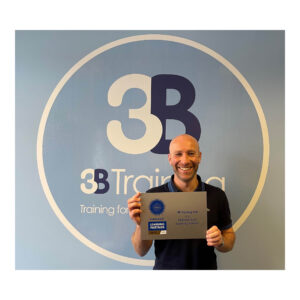 Founded in 1979, NEBOSH is a leading global organisation, which provides health, safety and environmental qualifications.
NEBOSH's internationally recognised qualifications help raise the competence of safety and environmental professionals as well as individuals at all levels in the workplace.
When choosing a NEBOSH Certificate qualification you should consider:
If you want to focus on a particular skill set, such as fire safety or leadership.
If you want to focus on a particular sector, such as construction.
Which certificate would best complement your role or career aspirations?
What do employers expect? Consider the types of job roles you are interested in and whether employers or recruiters expect certain qualifications.
What level is the NEBOSH General Certificate?
The NEBOSH General Certificate is the minimum you will need to start a career in health and safety and is equivalent to an NVQ Level 3 / or an A-level qualification.
The NEBOSH General Certificate will give you invaluable knowledge and skills AND a globally respected qualification that supports your current role and your long-term career.
Relevant to every workplace
Ideal for managers, supervisors, or anybody with health and safety management responsibilities
Perfect for those embarking on a health and safety career
What does the NEBOSH General Certificate course cover? 
The NEBOSH General Certificate provides an in-depth focus and covers:
How to effectively manage health and safety
How to identify and control common workplace hazards
How to measure if you've been successful
The UK's key legal requirements
Risk assessment is central to the qualification. Through study and workplace application, successful learners will be able to:
Confidently carry out risk assessments
Develop and implement a detailed action plan
Manage and minimise workplace risks
Support and develop your company's health and safety culture
What jobs can I get with NEBOSH General Certificate?
If your end goal is to become a health, safety and environment (HSE) professional, you will need a higher level qualification, such as a NEBOSH Diploma.
If you work in a construction-related role, you may want to complete the NEBOSH Construction Certificate. This course will cover construction-specific health & safety content and will help you get a career working in that sector.
Other courses available to those who want to become a health & safety practitioner include NVQ Level 3 Health & Safety or the Level 6 NVQ Health & Safety. The health & safety NVQs are used to show individuals competency in their role.
Can I join any professional bodies with a NEBOSH Certificates?
A NEBOSH General Certificate entitles you to:
Associate Membership (AIOSH) of the Institution of Occupational Safety and Health (IOSH). The qualification also meets the academic requirements for Technical Membership (Tech IOSH) of IOSH with appropriate experience.*
Associate Membership (AIIRSM) of the International Institute of Risk and Safety Management (IIRSM)
Can NEBOSH be done online?
At 3B Training we offer both the NEBOSH Construction Certificate and the General Certificate in the classroom and online.
How long does it take to complete NEBOSH General Certificate?
Both the NEBOSH General and NEBOSH Construction certificate courses are 10 days long and spread over several weeks. Your tutor will also give you additional study hours, which will equate to around 40 hours of learning.
How much is a NEBOSH course? 
View upcoming dates and prices for NEBOSH General Certificate.
View prices and upcoming dates for NEBOSH Construction Certificate. 
How long does it take to  get a certificate?
3B Training will send out delegate certificates between 6-8 weeks after NEBOSH has declared the results.
Does the NEBOSH expire?
The NEBOSH General & NEBOSH Construction Certificate qualifications do not have an expiry date.
Back to News
View Our Courses