Who Should Wear Respiratory Protective Equipment?
There are plenty of airborne substances that can have a negative impact on your health and this is why Respiratory Protective Equipment (RPE) is important.
Learn about RPE, whether face fit testing is a legal requirement and who should wear RPE by reading more below.
What does RPE stand for?
RPE stands for respiratory protective equipment. Overall, it refers to any equipment that can be used to protect anyone from inhlaing hazardous substances, like dust. Respirators and masks are examples of respiratory protective equipments.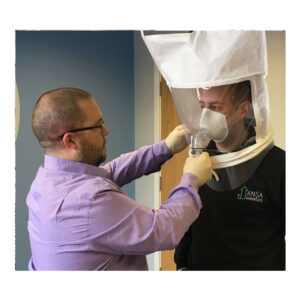 COSHH regulations state that all tight-fitting face pieces should be face fit tested to ensure the wearer has a correctly fitting device. It's important that a competent person carries out a face fit test.
Our Face Fit Testing is suitable for those who need to have their RPE tested. Whereas, our Face Fit Test The Trainer course teaches the delegate how to conduct a face fit test, so the delegate can conduct them on their workforce in their workplace.
Testing should take place every one to two years to ensure that your mask is still providing you with the correct level of protection, or when there are any changes to the type of respiratory protective equipment you are wearing. Regular testing is also important if you have gained or lost weight, dental work, facial scars or changes to the shape of your face has changed etc.
Face fit testing provides workers with the best protection against the effects of hazardous materials at work.
Who should wear RPE?
You should wear RPE if you are at risk of exposure to dangerous substances after taking other measures to eliminate or reduce the risk. RPE will be specified after a COSHH/risk assessment has taken place by a competent person.
Dangerous substances include asbestos, crystalline silica, chemicals, gases, solvents, wood, concrete dust, mists, and sprays. These substances can damage the lungs, skin, nose, and respiratory system, and could lead to death in some cases.
RPE is essential for those cutting materials like wood or stone, welding steel, using products containing solvents and when working in closed spaces where levels of oxygen are low.
What is RPE in construction?
There are two main types of RPE that construction workers may use:
Respirator (filtering device) – uses filters to remove contaminants in the workplace air. These can be Disposable Filtering Facepiece Respirators (FFP), Half-Facepiece Respirators and Full-Facepiece Respirators.
Breathing Apparatus (BA) – needs a supply of breathing-quality air from an independent source (e.g. air cylinder or air compressor).
You can learn more about respirators and breathing apparatus on the HSE website
Why must RPE be face fit tested?
It's a legal requirement that anybody who wears a tight or close-fitting mask needs to undergo a face fit test.  This Includes half masks (disposable and reusable) and full-face masks.
You shouldn't wear respiratory protective equipment if there is any hair growth between the respirator's seal and the wearer's face, including stubble, as this will have a negative impact on the suitability of the mask making the RPE ineffective.
Everyone's faces are different shapes and sizes, so one mask won't fit all. Therefore, face fit testing will ensure that the equipment selected is suitable and sufficient for the wearer.
Prioritising your health using respiratory protection is crucial and can prevent respiratory diseases or prolonged ill health. Our Face Fit Train the Tester courses are available to book online or get in touch with a member of the 3B team to book a Face Fit Test by completing an enquiry form or calling 0330 912 0650.
What is Mesothelioma?
Past exposure to asbestos can cause a type of cancer that affects the lungs called Mesothelioma. The fatal disease takes around 2,400 lives each year in the UK. Learn more about who is at risk and the common symptoms in our blog: What is mesothelioma
We also interviewed Mavis Nye, a victim of Mesothelioma that founded the Mavis Nye Foundation. Take a look at what Mavis discussed with 3B here: An Interview on Mesothelioma with Mavis Nye
Back to News
View Our Courses