What is PPE in the Workplace?
Personal Protective Equipment (PPE) helps to minimise exposure to hazards that can cause serious illnesses and injuries.
Read more to learn about PPE in the workplace, who's responsible for providing it and the different types.
What does PPE stand for?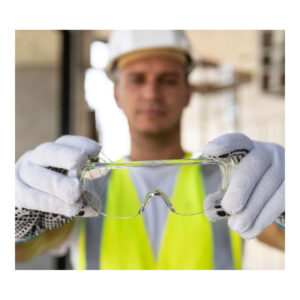 PPE stands for Personal Protective Equipment. This is equipment or clothing that gives you personal protection from health and safety risks at your place of work.
Why is PPE important?
Accidents happen frequently in the construction industry and most often it is due to not using PPE correctly or failure to wear PPE that is provided. The purpose of PPE is to reduce exposure to hazards in the workplace. These hazardous risks can be anything from a trip to a fatality.
Who is responsible for providing PPE?
The Personal Protective Equipment at Work Regulations 1992 states the following:
"Every employer shall ensure that suitable personal protective equipment is provided to his employees who may be exposed to a risk to their health or safety while at work except where and to the extent that such risk has been adequately controlled by other means which are equally or more effective." (Regulation 4).
Your employer must provide appropriate PPE that is CE or UKCA-marked. The equipment must also be regularly checked for damage or defects and expiry dates by the employer, ensuring it is fit for purpose. Employees must also be trained and know how to detect and report any faults. If the PPE provided is lost or becomes defective, you should report that to your employer immediately.
Overall, complying with the PPE at Work Regulations by wearing PPE in the workplace will play a key part in keeping you safe.
Who pays for PPE in the workplace?
According to section 9 of the PPE at Work Regulations (1992), under no circumstances should an employee have to pay for PPE, the employer should provide all the necessary equipment for free.
A worker can provide his or her own PPE if they choose, however, the employer must ensure that the equipment is adequate to protect them from hazards at the workplace.
Types of PPE
There are a variety of different PPE available:
Eye and face
Hand and arm
Body
Respiratory
Hearing
Head and neck
Learn more about the types of PPE .
So, make sure you are taking the necessary steps to protect your health by wearing the correct PPE and that you are complying with the legal regulations in place.
Back to News
View Our Courses