Types of PPE
PPE or Personal Protective Equipment is the easiest and most important method of staying safe on site.
You need to be able to select the correct PPE for the correct job to ensure you have sufficient protection.
Take a look below at the different types of PPE, their limitations and when they should be worn.
Eye and Face Protection
Eye and face protection is used to protect your face from any possible splash, projectile, vapour or radiation that could damage your eyes. Prime examples would be when using a saw or drill in which dust and flying particles could shoot up into your eyes. The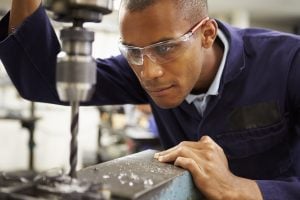 usual options used to protect your eyes would be either safety goggles; which provide protection for both the front and side of your face. Another choice would be goggles, they are intended for splash protection for the eyes but do not protect the rest of the face. If you find yourself in a situation in which you are working with radiation or bright light; filter lens goggles are recommended.
For full face and neck protection, you would use a face shield. Face shields can be used as a secondary precaution over the top of safety goggles; this way you can ensure utmost protection from chemical splashes.
Hand and Arm Protection
You must always make sure you wear appropriate hand protection when you are exposed to potential hazards. If you are likely to encounter anything that could potentially: cut, lacerate, burn, puncture or harmfully absorb into your skin you must protect yourself.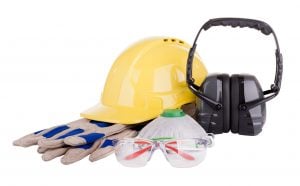 Depending on your task you need to select the PPE accordingly; if your hand is likely to be immersed in a substance for a long time just a glove will not suffice. Gloves with a cuff, protective sleeves and gauntlets may also need to be selected to protect enough of your body.
Wearing gloves for extended amounts of time can lead to skin problems; try to use separate cotton inner gloves to prohibit this. Although your hands are exposed when you are using machinery avoid using them because gloves may get caught in the machine. Also, barrier creams are not deemed as a reliable alternative to PPE.
Body Protection
Body protection can be used for a range of purposes; you may need it to protect your skin from a contaminated substance, avoid impact or to protect yourself from heat. Loose clothing may also get entangled in machinery so disposable overalls, aprons or boiler suits will also be needed in those situations.
Body protection doesn't necessarily refer t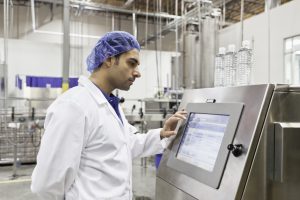 o the material of your clothing (e.g. flame retardant, high visibility or chemically impermeable). Body protection may be referring to safety harnesses or life jackets, so make sure these are properly considered before conducting a dangerous task.
For more information on safety harnesses and fall-arrest take a look at our Safety Harness training course here.
Respiratory Protective Equipment (RPE)   
Dust, gases, vapours and oxygen-deficient areas can all be harmful to the chest and lungs. That is why tight-fitting respirators are imperative to keeping you safe. To ensure that you or your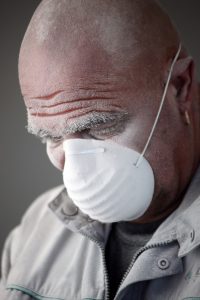 employees have sufficient protection it is advised that you are Face Fit tested.
Find out more about Face Fit Testing here.
To become competent in delivering Face Fit Testing yourself you will need to attend a Face Fit Tester Workshop course.
Hearing Protection
Being exposed to loud noise for any duration of time can be harmful to your ears. Ensure you wear earmuffs, earplugs or canal caps before working in situations with a high sound level. You need to assess your choice of PPE correctly so that you get the right balance of noise reduction and communication with others.
Head and Neck Protection
It may seem pretty obvious but it is important; you must wear a helmet if you are in an area in which you are a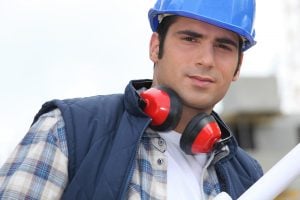 t risk of impact from falling objects. Helmets can also be used to protect you from harmful splashes and protect those with long hair. You need to also check that your chosen head PPE will fit with the rest of your eye and hearing protection, so choose carefully.
Fall Protection: What PPE is right for me?
Take a look at the range of fall protection that is available when working at height here.
Back to News
View Our Courses