Meet The Trainer – Paul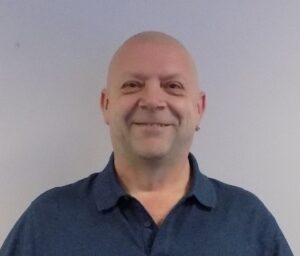 Paul Sutton is the face of our Midlands training venues. He joined the 3B team in 2019.
Take a look at our Q&A with Paul below…
Describe your role in 4 words
Health and Safety Trainer.
What is the best thing about being part of the 3B team?
Being part of a forward-moving, thinking, adapting organisation.
Why did you choose to become a trainer?
Needed a slight change in career, 35 years in construction – I just evolved.
What do you deliver at 3B Training? 
99% is CITB Site Safety Plus – ½ classroom, ½ remote and 1% short courses.
What do you enjoy most about your job and why?
Meeting new delegates – telling and listening to stories.
What does a typical day at 3B look like for you?
Setting up classroom or Zoom, the delivery of the course and enjoying it.
If you could introduce a new training course, what would it be?
A 1-day awareness course designed for school leavers regarding the main long term health hazards (dust, fumes, manual handling, noise, vibration, etc.) that are found in the construction industry.
What do you enjoy doing when you're not working?
Eating, drinking, sleeping!
What is a fun fact about yourself?
Spent the summer of 92', in Europe, working with G'n'F'n'R.
Who would you most like to swap places with for the day? 
Nobody – happy being me!
What has been your biggest achievement? 
100% success rate performing CPR, my Dad is alive because of my actions.
Back to News
View Our Courses