Supporting Staff Working From Home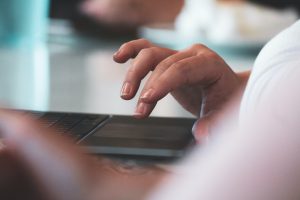 It's important to have regular conversations with your employees to find out how they want to continue working to make sure that you are supporting them and meeting their needs.
As of 13th December 2021, the UK Governments advice is that those who can work from home should do so and, as an employer, you have a duty of care to your employees who are working from home. This includes making sure the appropriate health and safety arrangements are in place.
Display screen equipment
The risks associated with using display screen equipment (DSE) must be controlled for employees working from home on a long-term basis. This involves them completing workstation assessments at home.
Those working from home temporarily aren't at as much risk from DSE so it isn't compulsory for employers to ask them to carry out home workstation assessments. However, it's important that employers provide them with advice on completing their own basic assessment at home which this workstation checklist (PDF) may help with.
Lone working
For those who are lone working, there are greater risks due to no supervision or anyone there to help them if something goes wrong.
If you don't keep regular contact with those working from home, it may leave them feeling disconnected or isolated. This can affect their mental health and stress levels too.
The health and safety responsibilities for your home workers are the same as for any other workers in terms of liability for accidents or injuries. Due to this, supervision, education and training must be provided as an employer. Control measures to protect homeworkers must be in place too.
You can find more advice from the HSE for employers and employees on health and safety for lone workers here.
Mental wellbeing 
Homeworking isn't for everyone, but for some, it may be their only option now. Some people may experience work-related stress or may notice an effect on their mental health. It may be more difficult for employees to access support from managers and colleagues than it is when they were in the office. This highlights how important it is to put procedures in place with those working from home because the earlier you can spot signs of stress, the more chance you have of preventing it.
It's important to have an emergency contact and make your employees aware of who it is so they know how to get help if they need it.
Back to News
View Our Courses