How Do I Become a Successful Site Supervisor?
Being a Site Supervisor means you play an important role on construction sites overseeing the daily operations. There is usually the opportunity to grow and upskill within this role too.
If you currently work as a construction supervisor or are considering a career in construction, keep reading as we discuss the role of a site supervisor and the routes to progress your career.
What are the roles and responsibilities of a Site Supervisor?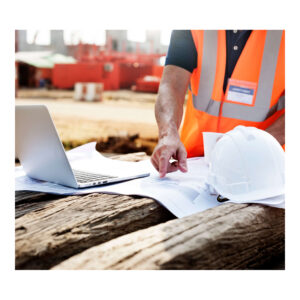 A Site Supervisor has a broad range of duties whilst working on-site. They are not just responsible for their own well-being, they need to consider anyone else who comes onto the site as well.
If they don't take into account their responsibilities, this could lead to potential injuries and legal feuds, and even put their job at risk.
Some common responsibilities they have are:
Supervising and organising construction workers and contractors
Preparing and delivering site inductions, safety briefings and toolbox talks
Obtaining an understanding of health and safety and managing risks on site
Ensuring those on site adhere to rules
Make sure welfare facilities are in place
Comply with legal regulations and procedures to avoid injury
Trained in providing emergency care such as emergency first aid
Learn more in our blog: What does a Construction Site Supervisor do?
What qualifications do you need to be a Site Supervisor?
As a Site Supervisor, you will need to display that you have adequate practical experience working on a construction site. Before becoming a Site supervisor, you will likely have started as a Construction Labourer, so you'll already have some experience working on-site.
You don't have to obtain a university degree to start your career as a Site Supervisor. Alternative routes to help you reach your career goals include apprenticeships, NVQs and additional construction training courses.
If you're currently working in the construction industry and want to advance your career, we have the following courses and NVQs available. These will help towards becoming a Site Supervisor and upskilling as one:
If you need to complete our SSSTS course, you can do so in the classroom or you can book onto our SSSTS online course. Our online version delivered over Zoom means you don't need to travel to one of our training venues to complete the course. This saves delegates and companies time and money.
Construction NVQs are great for those who are already working in the role of a Site Supervisor, as you must show you are knowledgeable and competent whilst working on the job.
Learn more from our blog: How to Become a Site Supervisor
What is an SSSTS qualification?
SSSTS stands for Site Supervision Safety Training Scheme.
SSSTS training is specifically for supervisors to expand their skills and learn all the up-to-date industry legislation.
These legislations are implemented to keep everyone on site safe, so the SSSTS course teaches how to implement safety practices in your daily routine.
This SSSTS qualification is highly recognised and is valid for a five-year period.
What does NVQ stand for?
NVQs have become a more popular route to advance your career and achieve your goals. But, what is an NVQ?
NVQ is an acronym for National Vocational Qualification. They are work-based qualifications. Throughout an NVQ, you will show the skills and knowledge you have by uploading evidence. This evidence will get marked by your assessor and aims to prove that you can do your role competently.
They can take as little as 10 weeks to complete. You can also do the majority of our NVQs via our ePortfolio platform.
Is an NVQ a Diploma? 
NVQs are ranked in levels and these levels go up in numerical order with the highest number being the highest level of qualification.
Depending on what NVQ you choose to complete determines whether your NVQ is a diploma.
To find out what qualification levels mean click here: List of Qualification Levels
How are NVQs assessed?
All NVQs are assessed on practical assignments and portfolio evidence that you can build during your working hours. So unlike a training course, it isn't a written test.
One of our qualified assessors will work with you, question you and observe you whilst completing tasks in your day-to-day role.
This is to ensure you are following the correct procedures, can perform your role safely and have the required knowledge and understanding of your role.
Take a look at answers to some frequently asked questions about NVQs in our blog: NVQ Frequently Asked Questions (FAQs).
Whether you are aiming to become a Site Supervisor or are looking to progress as one, training courses and NVQs are a great step in the right direction. It's important to ensure the course or qualification you are considering taking aligns with your current job role and career goals.
Back to News
View Our Courses