From Training to Certification: Securing Your IPAF Card
At 3B Training, we pride ourselves on offering premium quality health and safety courses, including the specialised International Powered Access Federation (IPAF) training. With courses like the IPAF 1b and the IPAF 3a and 3b, we equip individuals with essential knowledge and skills to safely operate various types of Mobile Elevating Work Platforms (MEWPs) and gain their IPAF PAL Card.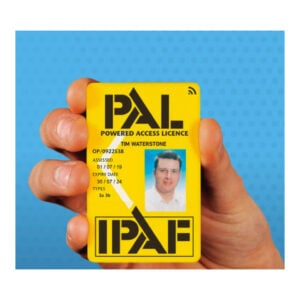 What is the IPAF Card?
An IPAF PAL Card is a Powered Access Licence for operating Mobile Elevating Work Platforms (MEWPs), Mast Climbing Work Platforms (MCWPs) or Construction Hoists (CHs). Over 51 countries accept the PAL Card recognition of high-quality operator training.
How to Get Your IPAF Card
To qualify for an IPAF Card, operators must complete an IPAF training course and pass a test with an IPAF-accredited training provider such as 3B.
This is because in the construction and maintenance industries, safety is paramount. Whether you're working at height using a mobile vertical, a boom lift, or a cherry picker, having an IPAF PAL Card shows that you have the training necessary to operate these machines safely and effectively.
This is not only beneficial for your personal safety but also contributes to the overall safety and productivity of your workplace.
Who can Benefit from IPAF Training with 3B?
IPAF Training with 3B is designed to cater to a broad audience. If you're a worker who operates MEWPs within your role, or if you supervise or manage the use of powered access, these courses will significantly benefit you. They're also ideal for anyone looking to enhance their skill set and open new opportunities within the construction sector.
Understanding the IPAF Courses at 3B Training
At 3B Training, we provide in-depth IPAF courses that cover everything from theoretical knowledge to practical application, all aimed at enabling delegates to use powered access equipment safely and effectively.
An Overview of the IPAF 1b Course
The IPAF 1b course is designed to train delegates on how to operate MEWPs, particularly with a static boom. The course, which includes both theory and practical sessions, instructs an operator to prepare and safely operate various types of MEWPs. Upon completion, you'll feel more knowledgeable and confident in your role, better equipped to carry out your duties safely.
An Overview of the IPAF 3a and 3b Course
The IPAF 3a and 3b course takes a step further, covering the safe operation of various types of MEWPs including cherry pickers, mobile vertical, mobile boom, boom lifts, and scissor lifts. This course aims to instil the knowledge and confidence needed for you to increase your productivity and proficiency within your role, thereby furthering your career in the construction industry.
A Deep Dive into the IPAF Course Content: What You Will Learn
Both the IPAF 1b and IPAF 3a and 3b courses delve deep into essential topics such as:
MEWP categories
Structural parts of MEWPs
Various regulations
Pre-use inspections
Handovers
Safe operating methods
These comprehensive courses prepare you for your practical training and assessment, helping you manage potential hazards and operate MEWPs effectively.
Your Roadmap to Getting Your IPAF Card
The journey to IPAF certification starts with enrolling in the appropriate course, whether that's the IPAF 1b or the IPAF 3a and 3b, depending on your professional needs. Both courses are structured into two main components: theory and practical sessions. 
The theory session can be conducted either as eLearning or in a classroom setting, providing flexibility for diverse learning styles and needs.
Once the theoretical knowledge is grounded, you'll undergo practical training. This practical aspect of the course is essential, providing hands-on experience and the confidence to operate MEWPs safely in real-world conditions.
You will qualify for a Powered Access Licence (PAL Card) if you successfully pass the course. This card will be valid for five years. You can access your PAL card via ePAL, which is IPAF's free mobile phone app.
Assessment Requirements for IPAF Courses
To attain IPAF certification and your PAL Card, it's crucial to meet the assessment requirements for the respective course. These assessments ensure that you've absorbed the theoretical knowledge and can apply it practically.
They include a theory test, where you're evaluated on your understanding of the course material, and a practical assessment, where your ability to operate MEWPs safely is tested. Both the theoretical and practical assessments must be passed in order to receive your IPAF Card.
Benefits of an IPAF Card
Attaining an IPAF Card goes beyond simply acquiring a new set of skills. It brings about numerous benefits that enhance your professional credibility and opportunities within the construction industry. 
Having an IPAF Card demonstrates that you have received training from an accredited institution and have passed rigorous assessments. This certification ensures that employers can trust in your abilities to operate MEWPs safely and effectively. Furthermore, it shows that you comply with legal requirements, providing peace of mind for both you and your employer.
The Impact of an IPAF Card on your Construction Career
An IPAF Card can significantly boost your career in the construction sector. It opens up new opportunities, as many employers prefer or require their employees to be IPAF-certified. This certification not only enhances your skill set but also showcases your commitment to safety and professional development, making you a valuable asset to any team. The IPAF Card, therefore, is not just a certification—it's a pathway to progress in your construction career.
Why Choose 3B for IPAF Certification?
Securing your IPAF card is a significant step in your construction career, and choosing the right training provider is key. At 3B Training, we're committed to delivering high-quality, accredited courses that equip you with the skills you need to succeed.
As an accredited IPAF training provider, 3B Training adheres to the highest standards of quality and compliance. Our courses are developed and delivered by industry professionals with extensive experience. They're designed to be engaging, informative, and focused on practical skills that will benefit you in your role.
Making the Most of Your IPAF Card with Continuous Learning
Once you've secured your IPAF Card, the learning doesn't stop there. With the construction industry constantly evolving, continuous learning is key to staying ahead. At 3B Training, we offer a range of further courses to help you expand your skill set, maintain compliance, and further advance your career. 
Head over to our IPAF Training Page today to see our next available courses.
Back to News
View Our Courses