The Height of Safety: Advantages of MEWP Training at 3B
Working at heights presents unique challenges and potential risks that demand specialised knowledge and skills. In this article, we will explore the advantages of Mobile Elevated Work Platform (MEWP) training at 3B. Our comprehensive course is designed to equip delegates with the expertise to operate these machines safely and efficiently.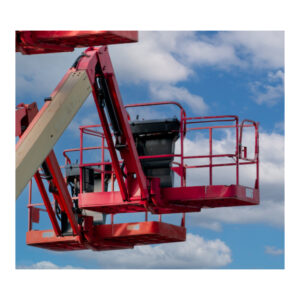 What is MEWP Training?
MEWP Training is a safety course designed to educate and qualify delegates on the operation and safety aspects of using Mobile Elevated Work Platforms. MEWPs are extensively utilised in industries such as construction, maintenance and warehousing.
The term 'MEWP' covers various machinery like cherry pickers, scissor lifts, boom lifts, and more. The training ensures that delegates can operate these platforms efficiently, safely, and in compliance with UK occupational safety regulations.
The Importance of MEWP Training
The significance of MEWP Training cannot be overstated. The construction industry often involves many risks, and the use of mobile elevating work platforms comes with its unique set of hazards. This makes MEWP Training essential for ensuring safe and efficient operations.
The training helps in reducing workplace accidents by ensuring operators are well-versed in safe operating methods and risk management strategies. A well-trained operator not only understands how to use the equipment but can also identify potential hazards, carry out routine inspections, and adhere to safety regulations.
In addition, the training boosts operational efficiency by equipping operators with the skills needed to utilise MEWPs to their maximum potential.
Who Should Attend the MEWP Training Course?
The MEWP Training Course is ideal for a variety of individuals. This includes operators who handle MEWPs regularly within their roles, as well as supervisors and managers overseeing the use of such machinery. The training can also be highly beneficial for health and safety officers and advisors responsible for ensuring safe workplace practices.
Even if you are not directly involved in the operation of MEWPs, having a solid understanding of the equipment, its operation, and the associated safety measures can enhance workplace safety and compliance. Whether you're just starting your career or an experienced professional, MEWP Training is a valuable asset in maintaining high standards of safety and efficiency in the workplace.
IPAF 3a and 3b MEWP Training at 3B Training
3B Training offers the comprehensive IPAF 3a and 3b course, which looks at both the theoretical and practical elements of operating with MEWPs safely, including:
Mobile elevating work platforms categories
Structural parts of mobile elevating work platforms categories
Regulations
We deliver the training as a public course or in-house course at our Blackburn and Doncaster venues, or on a client's site. However, please note that you must provide the machines if you want the course delivered on your site, and your site and machines must meet IPAF requirements.
Regardless of the chosen mode, all training options deliver the same high standard of instruction and knowledge, ensuring that every delegate can operate MEWPs safely and proficiently.
IPAF 3a and 3b Course Content and Structure
The IPAF 3a and 3b MEWP Training Course is a one-day course, providing delegates with the essential skills and knowledge required to operate MEWPs safely and efficiently in a short period. The course's structure equips every delegate with both the theoretical understanding and practical skills needed in real-world applications.
The theoretical aspect of the course includes an introduction to MEWP categories, a comprehensive look at structural parts of MEWPs, and a deep dive into relevant regulations such as ISO 18878, HASAWA, PUWER, LOLER, MHSW, WAHR, and RIDDOR. This lays a robust foundation of knowledge for the delegates.
In the practical part of the course, delegates get hands-on training on pre-use inspections and handovers, safe operating methods, and how to identify and manage potential hazards. This practical training reinforces theoretical knowledge and allows for skill development in a controlled environment, under the supervision of experienced trainers.
Benefits and Advantages of 3B's MEWP Training Course
Increasing Workplace Safety with MEWP Training
Our MEWP Training course significantly enhances workplace safety. The use of Mobile Elevating Work Platforms can present a range of potential hazards if not operated correctly. These can include falls from height, equipment malfunctions, and accidents due to lack of awareness of safety protocols.
3B's MEWP Training educates learners on the proper use and safety aspects of MEWPs, including the identification of potential risks, understanding of safety regulations, and implementation of safe operating procedures. It also provides training on pre-use inspections and handovers, critical aspects that can prevent accidents due to faulty or unsuitable equipment.
By instilling these essential safety practices and knowledge, the MEWP Training course from 3B can significantly reduce the likelihood of workplace accidents, creating a safer working environment for everyone involved.
Enhancing Productivity and Proficiency through MEWP Training
MEWP Training from 3B offers substantial benefits in terms of productivity and proficiency. In any workplace, particularly in industries like construction and maintenance, operational efficiency is paramount. The training imparts knowledge on the safe operation of MEWPs and ensures delegates can use the equipment proficiently.
Through detailed theoretical instruction and hands-on practical training, operators learn how to utilise MEWPs to their full capacity. This leads to improved performance, fewer machine-related delays, and overall heightened productivity. The confidence gained from knowing how to operate the equipment safely and efficiently contributes to better job satisfaction and morale.
MEWP Training leads to a safer, efficient, and productive workplace, making it a worthy investment for individuals and organisations.
Certification and Accreditation: The Mark of Quality Training
IPAF Accredited MEWP Training Course
The IPAF 3a and 3b MEWP Training Course provided by 3B Training is fully accredited by IPAF (International Powered Access Federation), a globally recognised authority in powered access training. This accreditation ensures that the training content, methods, and outcomes meet the highest industry standards.
On successful completion of the course, delegates receive a Powered Access Licence (PAL) card. This card is a testament to the delegate's proficiency in operating MEWPs and their commitment to safety and development.
The PAL card offers several benefits. It gives employers the confidence that their staff members are trained to a high standard, satisfying legal requirements. It also signifies to clients and contractors that the cardholder is competent and reliable in operating MEWPs. Having a valid PAL card can be a prerequisite for job opportunities requiring the use of powered access equipment.
The Importance of the PAL Card
The PAL card holds significant importance within the powered access industry. Valid for five years, it serves as an industry-recognised proof of training and competence in operating MEWPs.
Many countries recognise the PAL card, further underlining its value.
The PAL card details the categories of MEWP the cardholder is qualified to operate and a log of the operator's experience, thereby serving as a verifiable record of their skills and experience.
In practical terms, employers and contractors use the PAL card to verify an operator's qualifications during the hiring process, when assigning tasks, or during inspections. It's an easy and reliable way to demonstrate compliance with health and safety regulations.
Delegates can access their PAL card digitally via IPAF's free ePAL mobile app. This makes it easier than ever to carry, share, and verify their qualifications.
Reach New Heights with 3B's MEWP Training
Choosing 3B Training for your MEWP Training Course offers a multitude of benefits. We provide high-quality, accredited training designed to enhance both safety and efficiency in your role. 
Whether you're an individual looking to expand your skill set or an employer seeking to invest in staff training, our course can provide the knowledge and confidence required to operate MEWPs safely and proficiently.
Here's why 3B Training should be your top choice for MEWP Training:
Accredited and Certified
Our course is fully accredited by IPAF, a globally recognised authority in powered access training. Upon successful completion, you will receive the coveted PAL card, valid for five years, showcasing your proficiency in the industry.
Comprehensive Course Content
The course covers essential theoretical knowledge and practical skills, equipping you with comprehensive understanding and hands-on experience.
Flexible Training Options
We offer both public and in-house training, providing the flexibility to choose the mode that best suits your needs. We also balance theory and practical learning, offering classroom instruction, and hands-on practical sessions.
Expert Trainers
Our trainers are industry experts, ensuring you receive training that is informative and grounded in real-world application.
Safety and Productivity
Our MEWP training helps increase work safety, reduces the likelihood of accidents, and enhances efficiency and productivity.
At 3B Training, we understand the vital role that MEWP operators play in numerous industries. That's why we deliver a training course that prepares each delegate to carry out their role safely.
Head over to our IPAF 3a and 3b Course Page here to view our next available course dates.
Back to News
View Our Courses