Understanding Abrasive Wheel Markings
Abrasive wheel markings are used in a variety of different industries.
It is important that you choose the right abrasive wheel for the right job and it is used safely.
When using an abrasive wheel it is important that you are following the best working practice so that wheel doesn't break. Take a look below at how an understanding of abrasive wheel markings can help you work more safely.
Abrasive Wheel Markings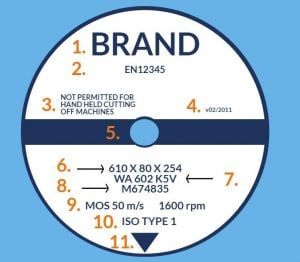 Every wheel must adhere to the British Standard (BS EN 12413 and BS ISO 525) system for marking. All wheels are marked with the: type, size, specification and the maximum operating speed of the wheel. Take a look below at the fundamental markings a wheel should have.
Trade Mark
Test Record
Restriction for Use
Expiry Date
Speed Stripe
Dimensions in mm
Specification Mark
Code Number
Maximum Operating Speed
ISO Type No. (shape)
Mounting Instruction
Type
The wheel type signifies the wheel's shape- this is marked as an ISO number e.g.
ISO Type 27 – Reinforced Depressed Centre Grinding Wheels
Type 41 – Reinforced Flat Cut Off Wheels
Type 42 – Reinforced Depressed Centre Cut Off Wheels
Size
The wheel size is marked in mm – e.g. 610 x 80 x 254, diameter x thickness x hole size.
Specification
A series of numbers and letters make the wheel specification – e.g. A16 R 5 B S4. These numbers symbolize the abrasive wheel material, grit size, grade, structure and the bond type.
Maximum Operating Speed
The maximum operating speed (MOS) is featured on large wheels over 80mm in diameter. The peripheral surface speed is displayed in metres per second, e.g. 50 m/s and the rotational speed is displayed in revolutions per minute, e.g. 8500 rpm.
For wheels below 80mm in diameter; there is a separate notice is stored with the wheel; this will have the maximum operating speed on it.
Speed Stripes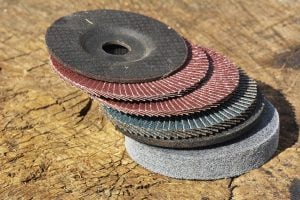 On the centre of each wheel will be a colour coded stripe; the stripe is used to help judge the maximum operating speed of a wheel when it is moving at high speed.
50m/s – Blue
60m/s – Yellow
80m/s – Red
100m/s – Green
125m/s – Yellow/Blue
Restrictions for Use
Each wheel will have a certain restriction code or graphic to depict the wheels restrictions. The markings used are:
RE1 – Do not use for manually guided and hand-held grinding.
RE2 – Do not use for hand-held cutting-off machines
RE3 – Not suitable for wet grinding
RE4 – Use only in totally enclosed workspaces
RE6 – Do not use for face grinding
Other Markings
A test record number to signify that the wheel meets the safety standards.
A traceable code number to display the manufacturing and source details of the wheel.
The wheel manufacturer name.
If it's an organic wheel it will feature the expiry date.
An arrow that points downwards on the bottom of the wheel, this is the mounting point of the wheel.
What can I learn from Abrasive Wheels Training?
If you are due to attend some Abrasive Wheels training and you would like to find out more about the benefits of the course click here.
If you would like to learn more about using abrasive wheels you may want to attend an Abrasive Wheels training course. To view, our upcoming dates and prices take a look at our book a course page here.
Back to News
View Our Courses