Trainee CSCS Card Changes
CSCS has recently announced changes to the Trainee CSCS Card.
All information of the trainee CSCS card is correct as of 26th May 2016
What is the Trainee CSCS Card?
The Trainee Card is a CSCS card for trainee workers who are registered onto an accepted construction related qualification.
What do I need to apply for a Trainee CSCS card?
To apply for a Trainee CSCS card you must also complete and pass the Health Safety and Environment Test.
You must be able to provide proof of enrollment onto your qualification to satisfy CSCS. Your proof must include your full name, the full title and level of your qualification and the date of registration. You must have registered for your qualification in the last 2 years. The card is valid for five years and cannot be renewed.
The Trainee (Craft and Operative) Card
Trainees who are enrolled on an NVQ or SVQ but have not yet achieved the qualification can access the CSCS Red card. Trainee cards are not renewable and are valid for three years.
The Trainee Technical, Supervisory and Management (TSM) Card
If you are able to provide evidence of being currently enrolled in higher education for a recognised qualification in construction you can apply for this card. The card isn't renewable and is valid for three years.
Industry Response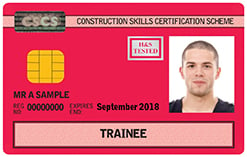 The changes have caused some confusion in the industry. They have allowed those attending to be accepted to apply for a CSCS trainee card if they have qualification on a course that is not based on a National Occupational Standard.
The SSSTS, SMSTS and NEBOSH are being mistaken as a qualification that meets the criteria. Therefore this is causing frustration from those who are trying to apply for a card.
To avoid any more confusion the majority of the construction industry would like non-National Occupational Standard qualifications to not be accepted.
Future Changes
As of 1st August 2016, the below changes to Trainee CSCS Card will be implemented.
The CSCS Trainee card will be a Red card so it can be clearly defined as a Trainee card.
The card will be available to use for 5 years and cannot be renewed.
There will only be one type of card, so there will be no specific one for each occupation.
Your occupation will not feature on the card at all; the card simply says "Trainee".
You must have completed the CITB Health, Safety and Environment Test and also within a window of two years.
SMSTS, SSSTS & NEBOSH General Certificate will not be accepted as qualification routes to the Trainee Card.
You must complete your training before your card expires. On completion of your training, you will then need to upgrade to CSCS skilled card.
Which CSCS Card Do I Need?
For more information on which card will be the most relevant to you on completion take a look at "Which CSCS Card Do I Need?"
Back to News
View Our Courses