Bonfire Night Safety
Bonfire night is a fun day but it can also be very dangerous.
Take a look at our guide on how to keep you and others safe on Bonfire Night.
The dangers of fireworks and bonfires
Fireworks are extremely dangerous and are not to be used irresponsibly; a firework can move at speeds as high as 150mph. Messing about with fireworks is also illegal and could lead to some big implications if you are caught misusing them. It is illegal to sell fireworks to anyone under 18 and if you are caught throwing one you could be fined up to £5,000 as it is a criminal offence.
When setting up a firework you need to make sure you follow these simple steps carefully:
Make sure you have no flammable materials in the area in which you are setting up your firework.
Place your firework on a flat surface on its base or on a stand.
Make sure everyone in the area is aware you are about to light the firework.
Light the firework and walk away to a safe distance.
After the firework is lit and has projected make sure you have a bucket ready to put any used fireworks in but make sure they have cooled down before touching them.
Once they have all cooled down at the end of the night you can simply dispose of them into a bin.
Bonfire Night accidents
Last year 990 injuries were caused in October and November from fireworks or sparklers. 121 of those were caused by a public firework display and 475 were caused by private displays. If you suffer from any kind of problem with your heart or breathing it also advised you enjoy watching the fireworks inside.
Using sparklers safety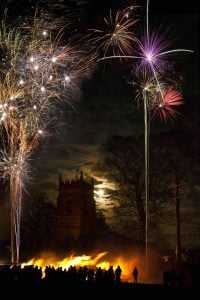 Children love sparklers, as much fun as they are three sparklers creates the equivalent heat to a welding blow torch so you need to make sure they are using them safely.
Make sure that you are in an open space and that you and the child are wearing gloves. Make sure you light the sparkler while the child is holding it and that they have it positioned horizontally from their body and as far away from their face as possible. When the sparkler has finish simply dispose of it correctly in water.
Keeping Warm
Finally, it is important to keep warm, summer has been and gone so make sure you wrap up warm. Make sure you wear thick socks, a hat, gloves and scarf and plenty of knitwear. You may also want to wear wellies in case it rains or the ground is muddy.
Using Fireworks Safely Blog
For more hints and tips on keeping safe when it comes to using fireworks, read more here.
Back to News
View Our Courses