Using Fireworks Safely
Surprisingly we use fireworks for celebrations a lot over the space of the year.
We use fireworks on Bonfire Night, Independence Day, Diwali, Chinese New Year and New Year's Eve, so, the odds of an accident occurring are very high.
Take a look below at some top tips on how to stay safe when fireworks and bonfires are involved.
Firework Safety Warnings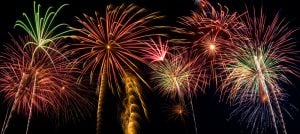 Everyone knows that fireworks are dangerous. We reiterate this to our children so that they are also aware of the dangers, but why do accidents still occur every year?
Public firework displays are the safest place to enjoy fireworks (apart from the safety of indoors). Public displays are regulated by people who know what they are doing in an open environment – this doesn't mean that it is impossible for something to go wrong, just a lot less likely.
Home firework parties are much more dangerous, especially when alcohol is put into the equation. If you are thinking of doing a display at home, make sure you follow the firework code.
Plan ahead – makes sure you know what you need to do when you are setting up, lighting and disposing of a display.
Keep young children away from the fireworks by storing them in a closed box in a safe place.
To lower the risk of an accident, light one firework at a time. Only light them after reading the instructions for each one thoroughly.
Stand at a safe distance away from the firework and keep at arms-length away while lighting it.
Keep naked flames as far away from fireworks as possible and if there are any smokers around keep them well away.
Once a firework has been lit, do not return to it!
Before it is lit make sure it is pointing in a safe direction in which it won't hit someone even if it accidentally tips over.
Carelessness with fireworks can kill, never carry them in your pocket or throw them – even if they aren't lit.
Bonfires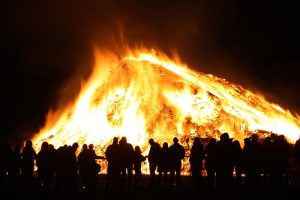 Bonfires are dangerous, there is no other way about it. If you are not aware of the dangers of lighting an open flame you shouldn't be making a bonfire.
A bonfire should be supervised by a responsible person. That person needs to ensure that the area is safe and that there are no avenues for the fire to spread or become out of control. Look out for dry trees and fences around that could possibly ignite before lighting the fire. Petrol or paraffin are not suitable ignition sources, they can easily flare up and become unsafe. It is safer to use fire lighters that are specifically made to do the job. Also, have an emergency bucket of water available in case of an accident.
When it is time to put out the fire, pour water over the flame. Leaving it to burn out can leave the risk of an ember still being present, therefore reigniting the fire.
Bonfire Night Safety 
You may also, be interested in our blog? – Bonfire Night Safety
Back to News
View Our Courses