What is an EUSR Card?
The EUSR Card is used to allow utility workers to access a construction site to conduct their work.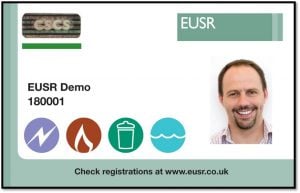 An EUSR Card is usually held by those who work with the likes of gas, power and water. The card is used as an alternative to the usual CSCS card. When you obtain the card, you will be then assigned to the Energy and Utility Skills Register. By having your details on there, current and future employers will be able to view your qualifications, skills and training. The category in which you are registered under will influence which EUSR Card you will get.
Similarly, to the CSCS and CPSC cards; each card is differentiated by colour, each colour will represent your qualification level and occupation.
CSCS Affiliation
If you work in the utility industries you cannot simply complete the CSCS Health, Safety and Environment Test. Due to the significant requirements of the role compared to a construction role, the touch screen test doesn't cover the relevant elements necessary to obtain an EUSR card.
Gas
The touchscreen test required for gas workers is the utility safety and environmental passport scheme. This course is more commonly known as the EUSR SHEA Gas Training course. This course is CSCS affiliated.
Waste Management
There is also a CSCS affiliated scheme for waste management roles, the SHEA Waste & Resource Management course. This course covers all the relevant information on environmental awareness and health & safety.
Water
Those who work in the water industry have a few routes to take to obtain their relevant EUSR card.
The SHEA Water course is a basic awareness course for those who work in the water industry.
The national water hygiene registration is the relevant course for those who require access to a restricted site.
The course all depends on the health and hygiene issues that surround the role of the delegate e.g. water contamination.
Electric
Basic electrical safety competence is in most cases is a high enough qualification to allow electrical workers on site. Another route you can take is to attend the correct training to become a national grid electricity contractor.
Other Affiliated Qualifications
EUSR also offer qualifications for those who work in:
Plant equipment scheme
Pipeline construction
Special equipment
Excavation
How does the CAT & Genny work and why are they used?
Find out all you need to know about the three modes of the CAT and what the Genny is used for here.
Back to News
View Our Courses