What happens on a First Aid Course?
Throughout the 3-day first aid course, the delegate will take part in both classroom-based and practical learning. They will also role-play a range of topics. All these topics will assist in qualifying you as a competent first aider.
.The course will teach you various techniques through theory and practical demonstration to help you to deal with a variety of situations.
Life-Saving Skills You Can Learn From First Aid Training
First aid training can supply you with potentially life-saving skills. You could be the difference that helps to keep someone alive until the emergency services arrive.
How To Administer CPR & AED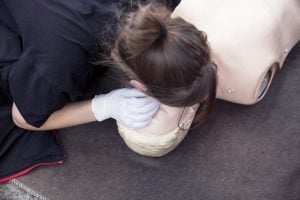 If you find a casualty, who has collapsed and has stopped (or has irregular) breathing you will need to administer CPR. Basic CRP and AED is part of the course content of almost all of our First Aid Courses. The Emergency First Aid, First Aid at Work & First Aid Requalification will all teach you how to preserve life through CPR on a casualty.
The Paediatric First Aid course will specifically go over how to conduct CPR on a baby or child (this is also briefly covered in the above courses).  We also provide a course specifically on how to use the AED defibrillator.
A casualty may become unresponsive in a variety of ways such as from cardiac arrest, a seizure or from shock, to name a few. Therefore, CPR is an important life-saving skill to have.
Treating Heavy or Catastrophic Bleeding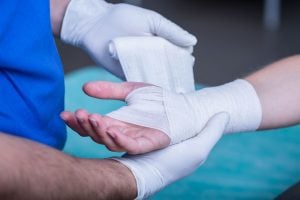 If someone is bleeding heavily, you must act on this before they lose a fatal amount of blood. The First Aid at Work, First Aid Requalification &  Emergency First Aid courses will all teach you how to respond to this. You will learn all about how to apply pressure to a wound effectively and what can be used to slow the bleeding.
How To Save Someone Who Is Choking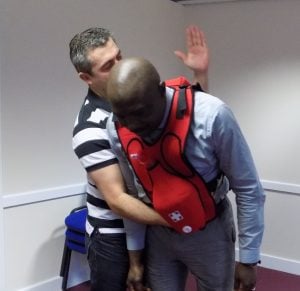 The above first aid courses will not just teach you how to save someone who is choking but recognize the signs in the first place so that you can act quickly. First aid training can teach you life-saving skills such as; the Heimlich manoeuvere (or abdominal thrusts) and how to apply a back blow correctly.
Treating a Burn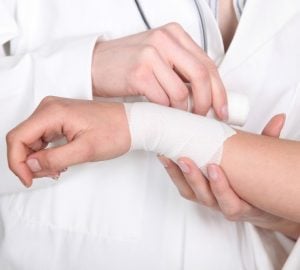 By treating a burn correctly, you can save yourself or another person from further pain or scarring. The First Aid Requalification, Emergency First Aid & First Aid at Work will teach you how to deal with minor and more serious burns. Although the Paediatric First Aid course covers how to treat burns on babies and children; no matter how serious you should seek medical attention.
Treating Mental Health Issues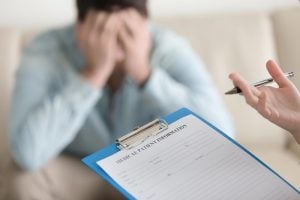 Mental health problems can be equally dangerous to a person than physical ill-health. By becoming a mental health first aider, you will gain skills that could be potentially life-saving. The Mental Health First Aid course will teach you how to protect those who are at harm to themselves and guide them to the relevant support.
The course also covers:
A first aiders roles and responsibilities.
Assessing an incident.
Recognising the symptoms and signs of illness and injury.
Methods of assisting a casualty with a serious illness or injury (anaphylaxis, spinal injury and chest injury).
The final day of the course includes a practical element in which the delegates will learn:
Basic bandaging techniques.
Bandaging an embedding object.
Bandaging a head injury.
Slings and arm support.
How to administer the log roll for spinal injury victims.
Day 3 will also touch on the likes of strokes, poisons, crush injuries, heart attacks, heatstroke and hypothermia. The tutor will appraise the delegates throughout the course to ensure that they are picking all the information up and that they are competent.
First Aid Course Exam
14 questions that test your first aid knowledge and show the trainer you can safely administer first aid in a medical emergency. The course is a fun interactive three days that provide you with the knowledge and confidence to respond to any incident within the workplace.
For more information on the First Aid courses we provide and how they can help you click here.
How do I know which first aid course to take?
One of the main ways of deciding which course you should take is by assessing the environment you work in. This is especially relevant in a busy working environment.
Low-Risk Environment
People generally perceive offices, cafes and small shops as low risk. If you work in a larger store, the risk becomes higher due to the increase in people working and visiting.
High-Risk Environment
Health & safety personnel would consider workplaces with multiple floors and departments as high risk.  They would also class workplaces with operations constantly running through day and night with a large number of workers and the public present the risks as high.
What's the difference between standard and emergency first aid?
The difference between emergency first aid and standard first aid is that Emergency First Aid is 1-day of training whereas First Aid at Work is 3-days.
Back to News
View Our Courses