What happens on a First Aid Course?
What happens on a First Aid Course?
So you're thinking about attending a Highfield First Aid course but not sure what the course actually covers? 
3B Training offers a range of First Aid Courses throughout their nationwide venues. Courses include…
First Aid at Work
Over the duration of 3 days, the course features both classroom-based and practical learning. As well as role-plays, covering a range of topics. All these topics will assist in qualifying you as a competent first aider.
A first aiders roles and responsibilities.
Assessing an incident.
Recognising the symptoms and signs of illness and injury.
How to administer CPR
The use of an AED (defibrillator)
Methods of assisting a casualty with a serious illness or injury (anaphylaxis, spinal injury and chest injury).
The course will teach you various techniques through theory and practical demonstration to help you to deal with a variety of situations. You will learn how to use the recovery position, conduct back blows and abdominal thrusts safely.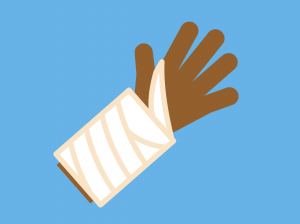 You will leave the course with knowledge of dealing with choking, bleeding and burned casualties. As well as those who are in shock, seizure and unresponsive.
The final day of the course includes a practical element in which the delegates will learn:
Basic bandaging techniques.
Bandaging an embedding object.
Bandaging a head injury.
Slings and arm support.
How to administer the log roll for spinal injury victims.
Day 3 will also touch on the likes of strokes, poisons, crush injuries, heart attacks, heatstroke and hypothermia. The tutor will appraise the delegates throughout the course to ensure that they are picking all the information up and that they are competent.
First Aid Course Exam
14 questions that test your first aid knowledge and show the trainer you can safely administer first aid in a medical emergency. The course is a fun interactive three days that provide you with the knowledge and confidence to respond to any incident within the workplace.
For more information on the First Aid courses we provide and how they can help you click here.
Back to News
View Our Courses