Why Learn First Aid?
Are you wondering why you should learn first aid?
3B Training encourages everyone to learn first aid we believe that it is a vital life skill that can help anyone at home and at work. Take a look below at some of the reasons why First Aid Training is a vital skill to have.
Confidence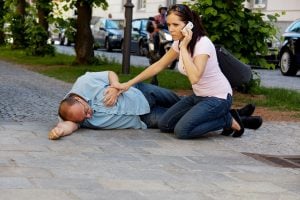 In the event of an accident would you ignore it? Most people who would say no wouldn't have the knowledge or confidence to help in the situation even if they wanted to. A First Aid Training course will give you the know-how in order to step forward and take control of a situation and treat a casualty. The Emergency First Aid, First Aid Requalification and First Aid at Work courses all provide you with knowledge on how to deal with a range of illnesses and injuries. By having this knowledge, you will feel much more willing to help when an accident occurs, without the fear of becoming a hindrance or applying first aid incorrectly.
Legal Requirements
Every workplace is required to have at least one appointed First Aider on-site at all times. Some workplaces require more First Aiders; this depends on how many workers are working there and how high risk the environment is. If you would like to work out how many First Aiders your workplace needs, check out the requirements calculator here.
If you work in a low-risk environment you will only be required to attend the (1 day) Emergency First Aid course.
If you work in a high-risk environment; e.g. a construction site or factory, you will need to attend the much more detailed (3 days) First Aid at Work.
If your First Aid at Work qualification is due to expire you will need to attend the First Aid Requalification to renew it.
You Can Use It Anywhere!
Once you have obtained your first aid certificate you have that skill for life, you can now administer an important life skill whenever an emergency may occur. Imagine if one of your family members or friends were in danger? First Aid Training covers how to give first aid to adults and children – so you would be in a position in which you could save them.
Quick Response and Buying Time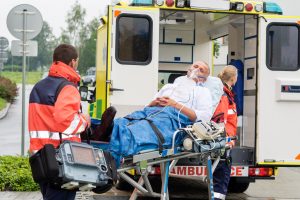 The faster you attend to a casualty in a critical condition the more chance you have of saving them. By attending to someone who is choking, unresponsive or critically bleeding early the effects of your treatment will be much more effective. First Aid Courses will teach you how to administer CPR and also how to use an AED or defibrillator; by knowing how to do this helps you keep the casualty alive until the emergency services arrive.
What Training Is Available?
3B Training delivers the following courses either on an open or in-house basis nationwide:
If you have any further questions about why you should learn first aid contact us here.
What First Aid eLearning Courses are Available?
Take a look at the range of Highfield accredited eLearning courses that we offer here.
Back to News
View Our Courses